By Kim Plummer Krull
After a surprise visit from a Kenyan Lutheran friend, the Rev. Kevin Vogts now sees a blessing in the midst of those "enormous black columns" of mosquitoes swirling over floodwaters that forced about 70 percent of his congregation to evacuate their Dakota Dunes, S.D., homes.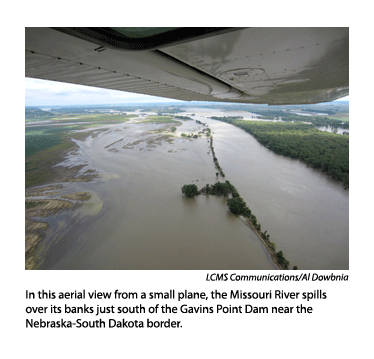 "By God's grace, our mosquitoes don't carry malaria," said Vogts, pastor at Holy Cross Lutheran Church. "Archbishop Obare explained that mosquitoes in this country don't carry malaria like they do in Kenya, which is a blessing because we could be dealing with a terrible outbreak right now after all this flooding."
The Rev. Dr. Walter Obare, Vogts' friend who is bishop of the Evangelical Lutheran Church in Kenya (ELCK), shared his all-too-personal knowledge of the disease-packing parasites when he and LCMS President Rev. Dr. Matthew C. Harrison traveled to the Dakota Dunes and Sioux City, Iowa, area Aug. 13-14.
Obare was in the United States in conjunction with work on behalf of the Lutheran Malaria Initiative (LMI), a campaign to mobilize U.S. Lutherans to help end malaria deaths in Africa. (Learn more about LMI at www.lutheranmalaria.org or www.facebook.com/lutheranmalaria.)
Obare spoke at a Bible study class after Harrison preached at the worship service commemorating the 25th anniversary of Vogts' ordination. Because of flooding in Dakota Dunes, the service was held at Concordia Lutheran Church, Sioux City. Obare shared his experience with malaria, which killed 10 of his siblings in Kenya. (See video of Harrison's sermon at http://youtu.be/_OoAEwVTjrw and Obare's Bible study at http://www.youtube.com/watch?v=c29YePpMAPM.)
"I went to Archbishop Obare's home church when I was in Kenya, and it was a great honor to have him here," said Vogts, who visited Africa in 2004 in connection with LCMS World Relief and Human Care's (WR-HC) collaborative work with the ELCK, an LCMS partner church. At that time, Harrison served as WR-HC executive director.
The weekend trek also was a homecoming of sorts for Harrison, who grew up in the Sioux City area. The LCMS president acknowledged that most people beyond impacted communities are probably unaware that this summer's record flooding continues to cause challenges in South Dakota, North Dakota and other areas.
"Unless you are in it, and you see people whose lives have been absolutely thrown topsy-turvy, you just can't appreciate it," Harrison said in an interview with a local KTIV television news reporter. (To see the story, click here.)
Like most of the Dakota Dunes community, Vogts and his wife were forced to evacuate their home around Memorial Day weekend because of a flood threat caused by problems related to the swollen Missouri River. "Imagine a community of some 5,000 people packing up all their belongings in about 48 hours and everyone evacuating at the same time," he said.
With floodwaters also putting the church at risk, volunteers from throughout the community quickly organized to move everything out of Holy Cross to minimize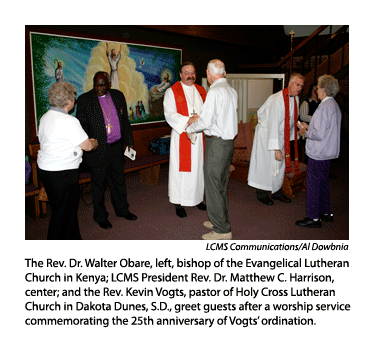 potential damage.
"Pastors and members from neighboring churches — everyone worked hard to move the pews, interior doors, cabinetry, everything. It was a really good example of koinonia," said Vogts, referring to the Greek word for "fellowship" that is used in conjunction with the "Life Together" portion of the Synod's "Witness, Mercy, Life Together" emphasis for the church.
Vogts said that the week before, he had slept in his own bed for the first time in more than two months. About 20 percent of Holy Cross members have been allowed to return to their homes, he said, but some 50 percent remain evacuated.
While his house escaped damage, other Holy Cross members' homes took in floodwater, Vogts said, "ranging from a few inches to a few feet." For people who remain evacuated, "it will probably be several months before they can return home," he said.
"It's very unusual," Vogts said of the flooding in Dakota Dunes, which is located on a peninsula between the Missouri and Big Sioux rivers. "Typically, when a river crests, the water recedes and within a short time things get back to normal. But in this case, our crest is lasting three months."
In the midst of upheaval created by the floods, Vogt called the visit by Harrison "a great comfort" and another example of koinonia. "That he was here on behalf of the whole Synod is a wonderful example of why we have a Synod — that we have sister congregations and pastors who care about us and what we're going through," Vogts said.
Likewise, Vogts said, this firsthand flood experience will make him and fellow congregants "more empathetic" when disaster strikes others. "We'll have a better understanding of the need to help," he said.
Click here to read a Reporter Online story posted June 21 about flooding in Dakota Dunes.
Kim Plummer Krull is a freelance writer and member of St. Paul's Lutheran Church, Des Peres, Mo.
Posted Aug. 30, 2011