Ruth Henrichs, president and CEO of Lutheran Family Services of Nebraska, will take part in a live, nationwide conference call hosted by First Lady Michelle Obama and White House Faith-B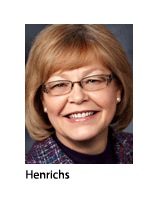 ased Director Joshua DuBois for faith and community leaders to discuss the "Joining Forces" military family initiative.
Joining Forces is a "national initiative designed to mobilize all sectors of society to provide military families with opportunities and support," according to a news release from Lutheran Services in America (LSA). LSA is an alliance formed by The Lutheran Church–Missouri Synod, the Evangelical Lutheran Church in America and more than 300 of their health and human service organizations.
Lutheran Family Services of Nebraska is an LCMS Recognized Service Organization and an LSA member.
Henrichs is one of six speakers who will share brief presentations during the conference call — set for Wednesday, May 18, at 3:30 p.m. Eastern Time.
In her presentation, Henrichs plans to address "At Ease," an LFS program that has provided trauma treatment and therapeutic support to active-duty military, veterans and their loved ones since 2009, and how other faith-based and nonprofit groups can collaborate with LFS to develop similar programs.
She also may speak about Operation Barnabas, a project of the Synod's Ministry to the Armed Forces, which has been assisting military families — and congregations with military members — since 2007. For more information, click here.
Anyone with an interest in supporting military families is invited to listen to the conference call. According to LSA, "this call is an unparalleled opportunity for Lutheran social ministry organizations to not only let a nationwide audience know that we support military families, it also builds access so that those in the Lutheran health and human services system are once again seen as experts who can cross the aisles and address the wide range of issues of interest to the White House Faith-Based offices.
"Your participation in this call can lead to increased recognition of Lutheran social ministry and expanded opportunities for participation in initiatives supported by the White House."
To listen to the May 18 conference call, dial 866-615-1885 and use the passcode 204772.
Posted May 17, 2011