In response to the life-threatening drought in East Africa, the Evangelical Lutheran Church in Kenya (ELCK) is making plans with a local relief agency and the Kenyan government to participate in relief effor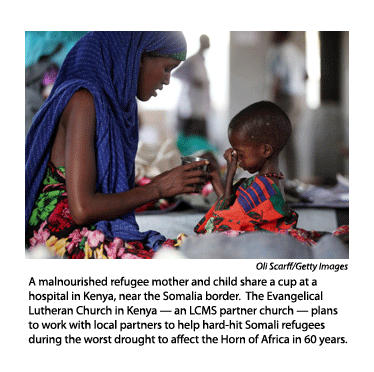 ts for hard-hit Somali refugees.
After a telephone conversation with Rev. John Halakhe, ELCK general secretary, on July 26, Rev. John A. Fale, interim executive director, LCMS World Relief and Human Care (WR-HC), said that "because the ELCK has historically been a leading agency for the distribution of food and water during other times of drought, representatives of the relief agency and the Kenyan government will be speaking with them."
"There is great need amidst much suffering," said Fale, who will receive updates from Halakhe as "meetings develop into decisions and actions." The ELCK is the LCMS partner church in Kenya.
The worst drought in 60 years is devastating East Africa — Kenya, Ethiopia, Somalia and Djibouti — where more than 11 million people are struggling with widespread food shortages, according to United Nations reports.
To make a gift to help WR-HC reach out through LCMS partners to assist people suffering in East Africa:
Mail checks (noting "Africa Drought Relief" in the memo line) to LCMS World Relief and Human Care, P.O. Box 66861, St. Louis, MO 63166-6861.
Call toll-free 888-930-4438.
Visit www.lcms.org/disaster.
Any funds not needed for this relief effort will be used for other disaster purposes as determined by LCMS World Relief and Human Care. Your gift is tax deductible to the extent permitted by law.
Posted July 29, 2011