Dr. Paul Maier of Kalamazoo, Mich., has given his last lecture as professor of Ancient History at Western Michigan University, Kalamazoo, where he has taught for 50 years.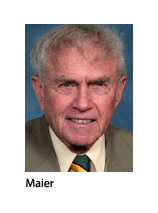 Maier, the Synod's third vice-president, addressed classes for the last time April 21 and now holds the record for the longest-tenured teaching career at the 108-year-old university, according to a story in the Detroit Free Press.
A prolific author and frequent speaker, Maier has written 25 books with 4 million copies sold.
"I love teaching," he told the newspaper. "It's too much fun. I could still keep on teaching, but I wanted to give the younger people a chance."
To read the April 27 Detroit Free Press story, "WMU professor gives last lecture after 50 years," click here.
Posted May 5, 2011