Free materials are available from the Concordia University System (CUS) to celebrate "Concordia Sunday," a recognition of the 147-year history of the Synod's 10 universities and colleges. The date of Ma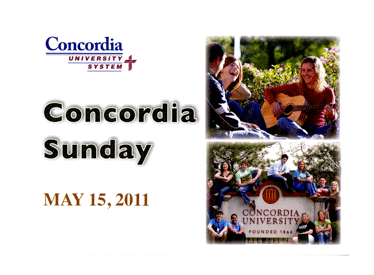 y 15 is suggested, but congregations may select any Sunday for the observance.
Concordia Sunday provides an opportunity to celebrate the Synod's colleges and universities that prepare individuals for secular and church careers, including pastors, teachers, directors of Christian education, directors of Christian outreach, deaconesses, lay ministers, directors of family life ministry and directors of parish music.
The Concordia campuses "assist individuals to develop and mature in a Christian environment where Jesus Christ is the central focus of their education," according to a CUS news release.
The free materials (brochures, bulletin inserts, liturgies, suggested hymns, activities and prayers) may be downloaded online at www.lcms.org/concordiasunday. Larger quantities may be ordered by calling 800-248-1930, ext. 1252; via e-mail at cus.info@lcms.org; or at www.lcms.org/?14910. There is no charge for shipping.
With an enrollment of more than 27,000 students, the 10 schools of the Concordia University System offer 150 undergraduate and 50 graduate programs ranging from accounting to theology. For the 11th consecutive year, all the schools are included in the national rankings for "America's Best Colleges" by U.S. News & World Report.
Posted March 16, 2011