By Kim Plummer Krull
"You saved my life and the lives of my children."
That's what a Haitian mother living in a home at the new Lutheran Village in Jacmel said to the Rev. Glenn F. Merritt during his latest trip to check on rebuilding and recovery in the battered Caribbean country.
In sharp contrast to the devastation he helped assess on past treks, the director of Disaster Response with LCMS World Relief and Human Care (WR-HC) enjoyed the opportunity to note signs of progress, including the woman's pastel blue one-bedroom home. Her family is among thousands of earthquake survivors helped by a variety of projects made possible by LCMS donors since the magnitude 7.0 quake devastated Haiti in January 2010.
"A lot of good is going on. We're seeing results," Merritt said after returning Aug. 15 from his 19th trip to Haiti since the disaster.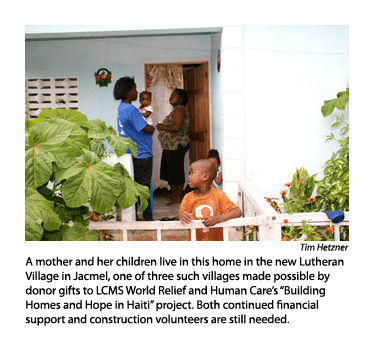 Merritt says he saw the most dramatic transformation in the lives of formerly homeless families benefiting from "Building Homes and Hope in Haiti" (BHHH), the WR-HC project in partnership with the Evangelical Lutheran Church of Haiti (ELCH). About 75 Haitian families now live or are in the process of settling into their own permanent homes in three Lutheran Villages in Jacmel, Beaudouin and Leogane. Another 150 families reside in prefabricated homes until permanent housing is built. All had been living in squalid tent cities or cramped quarters with relatives since losing homes in the quake.
"Dreams do come true with a lot of hard work and perseverance," Merritt said in an email update to LCMS President Rev. Dr. Matthew C. Harrison. "Thousands of homeless people across Haiti dream of living in a permanent home. Their hard work and perseverance — joined with a helping hand from the donors of the LCMS — have turned dreams into realities for 75 families."
Three villages under way
In Beaudouin, a community within Jacmel, the Lutheran Village that Merritt calls "the most complete" includes 16 two-bedroom homes and two apartment buildings, each with six two-bedroom units. The village includes a new ELCH church. Construction of a new school was to start in late August, Merritt said, and plans are in the works to open a community store where villagers can buy commodities at wholesale prices.
Along with Lutheran Village residents, earthquake survivors from a neighboring temporary housing development worship at the ELCH church in Beaudouin. "This new church already has doubled in size," Merritt said. "Since the other village [developed by another organization] has no church and no plans for a school, our village serves even more people than those who actually live there."
To date, 27 homes have been built through BHHH in the Jacmel Lutheran Village, which is also home to an ELCH congregation. As many as 80 people a day receive care at the village clinic, one of four such medical programs supported by WR-HC partnerships with the ELCH and the Lutheran Church of Haiti.
The clinics — retrofitted shipping containers — serve "the poor and underprivileged," Merritt said, "people for whom health care would otherwise be unaffordable and inaccessible."
At the Lutheran Village of Leogane, families live in 12 prefabricated homes with another 30 now being assembled. Some 20 permanent homes, a new church, school and ELCH seminary headquarters also are under construction. Medical and dental clinics already draw Haitians to the new community.
Ironically, this Lutheran Village sits next to a new Voodoo temple. That's "a negative that we now look at as a positive," Merritt said. "A woman connected with the Voodoo temple said they weren't doing anything to provide houses for people and that we are doing greater work than anyone else. We have a great opportunity to share the Gospel with the members of this Voodoo center."
Beyond the Lutheran Villages, LCMS donors also are helping provide food, clothing and medicine for more than 100 children who receive care through five orphan programs. Three operate out of the homes of Lutheran Haitian pastors and congregants; two orphanages have facilities that have expanded since the quake.
As cholera outbreaks exacerbate Haiti's many challenges, WR-HC also continues to help fight the deadly disease. Dr. Willy Gaspar, WR-HC projects manager in Haiti, works with Mercy Medical Teams from the United States to provide much-needed care and medicines.
In early August, the Synod's mercy arm began a project to install filtered wells and sanitary latrines in five Haitian Lutheran schools. Each participating school also offers an education program for parents to learn about sanitation and the prevention of cholera, which is spread through contaminated water and food.
"Parents who take part in the education program will be eligible for a home filter," Merritt said. "We're hoping the wells and latrines plus the education will go a long way to helping prevent cholera."
Needed: volunteers, funds
Funds are needed to expand the well and sanitary latrine program to 62 Haitian Lutheran schools. A home water filter costs about $30; a commercial-size filtered well and sanitary latrine costs about $10,000 to install per school, Merritt said.
Along with visiting LCMS projects, Merritt attended the convention of the ELCH, the LCMS partner church in Haiti. More than 1,000 attendees gave the Synod a standing ovation in recognition of disaster relief that began immediately after the earthquake and continues 19 months later. The Rev. Marky Kessa was re-elected ELCH president.
While tracking attendance isn't a priority in the Caribbean, Merritt says there's no doubt that LCMS outreach is helping draw Haitians to church. "Every pastor at the [ELCH] convention in Les Cayes commented on the larger numbers of people coming to church," he said. "Most said that it was because the Lutheran church had more than words to offer. And that's because our donors put forth the effort to give and support the work of these pastors."
This fall, nine teams of volunteers are scheduled to build more homes in Haiti as part of the BHHH project. More helping hands are needed.
"You don't need specific skills, but you do need to be willing to work hard," said Merritt, adding that transportation and lodging is arranged by Lutheran Church Charities, the Addison, Ill.-based LCMS Recognized Service Organization. Volunteers must be at least 18.
Also needed is continued financial support. More than 600,000 Haitians remain displaced, according to news reports. While that number sounds overwhelming, Merritt urges fellow Lutherans to consider the great numbers whose lives have been touched through a Lutheran Village, church, school, medical clinic, orphan program and other mercy work.
"Thousands of people have been helped, and all of that help has been through the church. Hundreds of people are coming to our Lutheran churches who never came before," Merritt said. "Your gifts have made and can continue to make a difference in the lives of people who have suffered so much."
In addition to the many homes already built, land has been surveyed, plots drawn and building plans developed, but funds are urgently needed to continue construction. To encourage support, a $200,000 challenge grant of matching funds for BHHH has been placed before the Synod. Every donor gift will be matched, dollar-for-dollar, until year's end, up to a $200,000 total.
To make a gift, volunteer or learn more about Building Homes and Hope in Haiti, visit www.lcms.org/bhhh. Or call WR-HC at 800-248-1930, ext. 1380. To make an online gift for Haiti cholera relief, go to http://givenowlcms.org.
To make a donation by mail, send your check to: LCMS World Relief and Human Care, P.O. Box 66861, St. Louis, MO 63166-6861. (Designate "Building Homes and Hope in Haiti" or "cholera relief" in the memo line.) Or make a credit-card gift by phone, calling toll-free 888-930-4438.
Any funds not needed for this relief effort will be used for other disaster purposes as determined by LCMS World Relief and Human Care. Your gift is tax-deductible to the extent permitted by law.
Kim Plummer Krull is a freelance writer and member of St. Paul's Lutheran Church, Des Peres, Mo.
Posted Sept. 7, 2011/Updated Sept. 23, 2011