The national Synod finished its 2010-11 fiscal year June 30 "in the black," according to LCMS Chief Financial Officer Jerald C. Wulf.
In his report for the Aug. 25-26 meeting of the LCMS Board of Directors, Wulf wrote that at the end of that fiscal year, "unrestricted net assets increased by over $3.6 million compared t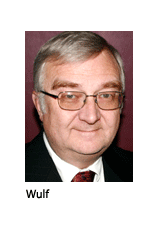 o the balance at the end of the previous fiscal year. However, $2.9 million of the increase was generated by bequests that were unrestricted. This is essentially one-time money."
Wulf also refers to those bequests in the draft of a report on the "financial condition of the Synod" for that fiscal year that he has prepared for the November editions of the Synod's official periodicals.
"Thanks be to God that a number of years ago, several brothers and sisters in Christ were moved by the Holy Spirit to provide generous bequests to the LCMS to be used 'where needed most,' " he wrote for the periodicals report. "Because those good stewards recognized our Lord as the fount and source of all their early blessings, their generous and thoughtful planning allowed the LCMS Inc. to end the 2011 fiscal year with an excess of revenues over expenses of about $3.6 million. That is great news to be able to share with you."
He then wrote that this news "must be tempered by the continued trend of reduced financial support shared with the LCMS Inc. by its component districts."
He also wrote for the periodicals that a review of the past 10 years of financial information in The Lutheran Annual indicates that "total financial gifts received by member congregations have been gradually increasing, even though the aggregate number of congregation members has been declining. Financial resources for the district, national and international work shared by member congregations for the work of the Synod and its districts has remained flat, or declined slightly. The financial gifts passed on to the Synod by the districts has been decreasing over the years, nearly $1 million dollars per year, on average, with a $1.6 million decrease from the level of support for FY 2011 to the current FY 2012. That decrease in support, coupled with slowly rising prices over the years, challenges us to meet the mission and ministry opportunities that our God places before us."
Wulf told Reporter that "it must be said that districts continue to work together with the national Synod to advance God's mission through LCMS Inc."
For example, he noted that the presidents of the English District and North Wisconsin District wrote Synod President Rev. Dr. Matthew Harrison in August that their boards of directors had decided to refund to the Synod amounts those districts had received from the Synod as overpayment of assessments they provided for the 2010 LCMS convention.
"We are so blessed … by the gracious outpouring of blessings from our Lord," Wulf writes at the end of his report for the periodicals, "that even in the face of our current financial challenges, we must rejoice. How can we do anything else?"
Posted Sept. 22, 2011