James Domingo typically sits in the pew at Our Redeemer Lutheran Church, Solon, Ohio. On Sunday, March 20, he plans to stand at the front of the sanctuary and ask his congregation to join him in helping suffering Japanese through LCMS World Relief and Human Care's disaster response.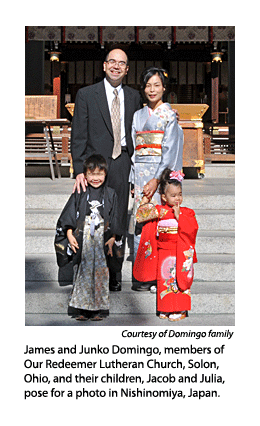 After the service, the 43-year-old business consultant plans to board a plane and fly to Tokyo.
"We worshipped at Lutheran churches in Japan when we lived there, and we know the people. They are great people, and we want to support them," said Domingo, whose business trip was in the works before the March 11 earthquake and tsunami.
Although he considered canceling, Domingo decided to continue with plans to travel to the country where he has strong personal, professional and spiritual ties. He lived in Japan for 10 years and met his wife, Junko, there. The couple has family and friends in Japan. Domingo has worked with companies in the area now impacted by a radiation-leaking nuclear accident that has been upgraded to a Level 5 on a seven-level international scale, according news reports.
Anxious to "show our Japanese friends that we stand firm with them," Domingo called LCMS World Relief and Human Care (WR-HC) on Thursday, March 17, seeking information to share with his congregation and community about the mercy ministry's disaster response in Japan.
"The best way to distribute aid to the people who need it is through congregations on the ground who know the needs and who are already there," said Domingo, referring to congregations of two WR-HC partners — the Japan Lutheran Church (an LCMS partner church) and the West Japan Evangelical Lutheran Church. The church bodies are recipients of $200,000 in emergency funds announced by LCMS President Rev. Matthew C. Harrison.
"There aren't huge numbers in the [Japanese Lutheran] churches, but they are very giving people," said Domingo, whose daughter, Julia Misaki, now 5, was baptized at a West Japan Evangelical Lutheran Church congregation in Nishinomiya. Domingo previously worked in engineering and later was president of the Japanese subsidiary of a large U.S. manufacturer before starting his own consulting firm.
In addition to making a direct appeal to his congregation, Domingo also is working on plans for a community fund raiser to support WR-HC's disaster relief in Japan. Pending approval by the church board, his congregation will sponsor a benefit bake sale Saturday, March 26, the same day Our Redeemer Lutheran hosts a popular Christian-based basketball program. Families from throughout the area are expected for the event.
Hans Springer, associate executive director for fund development with WR-HC, called talking with Domingo and hearing his compassion for the Japanese a moving experience.
"Here's an LCMS member in Ohio with so many ties to Japan. We were happy we could help him reach out to his congregation and his community," said Springer, who pointed Domingo to the LCMS website www.lcms.org/help for information and resources about Japan disaster relief, including a downloadable bulletin insert.
To date, donors have contributed more than $250,000 to the Synod's disaster relief in Japan. Springer says he hopes those gifts will continue to grow, even if the disaster begins to fade from news headlines.
"Recovery and rebuilding is going to take a long time," he said. "Our Lutheran partners in Japan are counting on us for the long haul."
To contribute toward the Synod's response to the Japan earthquake and tsunami:
mail checks (noting "Japan Disaster Relief" in the memo line) to LCMS World Relief and Human Care, P.O. Box 66861, St. Louis, MO 63166-6861.
call toll-free 888-930-4438.
give online at Disaster Relief Fund for Japan.
Posted March 18, 2011