Mention Palestine, Israel, the Middle East, and the words that often come to mind are uncertainty, conflict and political unrest.
But the Rev. Dr. Mitri Raheb, pastor of Christmas Lutheran Church in Bethlehem, is working to spre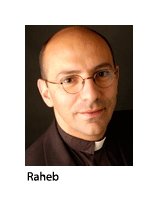 ad a message of peace through the Gospel of Jesus Christ.
Raheb will share that message — and his experiences — Sept. 21 at Concordia Theological Seminary, Fort Wayne, Ind. His presentation, "Bethlehem Today — Promises and Illusions … from a Palestinian Lutheran Pastor," will begin at 11 a.m. in Loehe Hall, Room 7. It is free and open to the public.
Born and raised in Bethlehem, Raheb also is president of the Diyar Consortium, which is composed of three Lutheran institutions that he founded: Dar al-Kalima Health and Wellness Center, the International Center of Bethlehem (Dar Annadwa) and Dar al-Kalima College. The focus of the Diyar Consortium is to serve the whole Palestinian community through community building, development and outreach.
To read more about Raheb's work, visit www.mitriraheb.org.
For more information about his seminary presentation, contact the Rev. Timothy Puls at timothy.puls@ctsfw.edu or 260-452-3134.
Posted Sept. 16, 2011