Rev. Leopoldo Vigil, an early leader in Hispanic ministry for the LCMS Texas District, died April 3 from complications of coronary disease at his home in Harlingen, Texas. He was 78.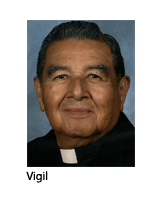 He graduated from the Hispanic Institute in Mexico City with a degree in Sacred Theology and served as a pastor in Mexico from 1959 to 1963 and as pastor of Our Redeemer Lutheran Church in Harlingen from 1963 to 1998. In his retirement, he continued to serve as assistant pastor at Mount Calvary Lutheran Church, Raymondville, Texas.
Rev. Vigil served as president of the Hispanic Conference in Texas and was a member of the LCMS Hispanic Conference. Through the Texas District's Hispanic In-Service Training Program, he mentored and supervised 12 vicars and three deaconesses. From 1975 to 1978, he taught Spanish to future church workers in the Summer Spanish Institute held at Concordia University (now Concordia University Chicago), River Forest, Ill.
Dr. Alberto Garcia, professor of Theology and director of the Lay Ministry and Teacher Colloquy programs at Concordia University Wisconsin, Mequon, recalls that Rev. Vigil "was one of those very few first pastors of Hispanic descent that worked with dedication in the ministry of the LCMS during difficult times when our Mexican brothers and sisters were not allowed easy access to many public venues."
Rev. Carlos Hernandez, director of Districts and Congregations with LCMS World Relief and Human Care, said Rev. Vigil was "one of the pioneers of Hispanic ministry in the Missouri Synod. He faced many challenges and disappointments in an era where segregation was the accepted practice. In the face of adversity, he relied heavily on the power of the Gospel, the guidance of the Holy Spirit and the love of his family and wife. This gave him an amazing, yet quiet and cheerful spirit."
Rev. Vigil is survived by his wife, Martha, his children Floyd (Belinda), Edna (Rick), Glen and Ted, six grandchildren and five siblings. His family requests that memorials be given to Mount Calvary Lutheran Church, Raymondville, or Driscoll Children's Hospital in Corpus Christi, Texas.
Posted May 12, 2011