"Live Love(d)" is the theme for the next National LCMS Youth Gathering, set for July 1-5, 2013, in San Antonio.
Based on 1 John 4:9, that theme "will provide the thematic and theological focus for the Gathering program," according to a Jan. 20 news release from LCMS Distr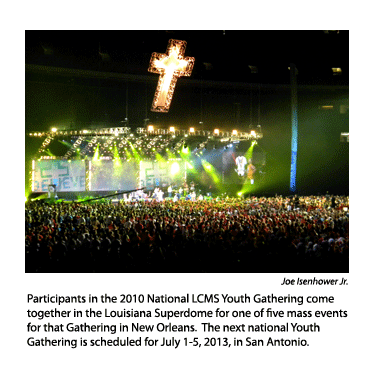 ict and Congregational Services — Youth Ministry, sponsor of all 12 national Gatherings since 1980.
The theme Bible passage reads as follows: "This is how God showed His love among us: He sent His one and only Son into the world that we might live through Him" (NIV).

Announcement of the theme followed a Jan. 16-18 theme-development meeting in San Antonio that included Youth Ministry staff, members of the 2013 Gathering executive team and planning team, Paul Krentz of the LCMS Texas District staff, and Dr. Joel Lehenbauer of the LCMS Commission on Theology and Church Relations. Also involved in that consultation were Dr. Jacob Youmans, who directs the Director of Christian Education program at Concordia University Texas, at Austin, and five Concordia, Austin students he selected.
Dr. Terry Dittmer, director of LCMS Youth Ministry, expressed thanks to all those involved in developing the theme.
"The energy, creativity and passion the Concordia students brought to the table was truly inspiring," Dittmer said. "They were in no mood to compromise that passion. They were incredibly helpful in coming up with a relevant biblical theme."
Dittmer added that he is convinced that the theme relates well to the Synod's new "Witness, Mercy, Life Together" emphasis.

"What is 'living loved' except Witness, Mercy, Life Together?" he asked.
Dittmer said that Ben Waldron, one of the Concordia University Texas students, commented that "he couldn't believe that love had never appeared in a theme for one of the previous 11 national Gatherings."
Dittmer said that those involved in the theme-development process "noted that, as God's people, we live confidently in the love shown to us in Christ and respond in love to others [and] that there are many young people hungering to know they are loved and for whom the Gospel of Christ gives the ultimate benefit and encouragement."
"The theme and 1 John speak to the confidence we have in the Gospel and how Christ's living sacrifice gives life to those who believe," said Rev. Mark Kiessling, Gathering program director and a member of the LCMS Youth Ministry staff. "This gift of life is secured in our heavenly home and brings us into fellowship and acts of service in our present world.
"The Gathering program will provide opportunities for continued growth in [its participants'] lives of faith and service," Kiessling added.
He indicated that the next step in planning for the 2013 Gathering is "development of a theological thesis focusing on the theme and verse, while also incorporating the whole of 1 John."
Lehenbauer, who serves as theological adviser to the Gathering, will write that focus.
"Love in 1 John is anything but lovey-dovey," Lehenbauer said in his initial response to selection of the theme. "It's a matter of life and death. God loved us so much that He could not bear to see us die in our sin. He sent His Son to suffer and die in our place, that we might live — and love — through Him.
"In 'Live Love(d),' the 'd' makes all the difference," Lehenbauer said as he quoted 1 John 4:19: 'We love because He [God] first loved us.' "
The 2013 National LCMS Gathering will be the third in San Antonio. The most recent of those was July 2-6, 1995, with the theme "River of Light."
San Antonio's Henry B. Gonzalez Convention Center and the Alamodome will be the primary venues for 2013 Gathering program activities.
For more information about the Gathering, go to www.lcmsgathering.com.
Posted Feb. 3, 2011