The Association of Lutheran Mission Agencies (ALMA) and a related organization, Lutheran Agency CEOs (LACEO), are co-sponsoring a national conference for mission agency and national Lutheran organization leaders Feb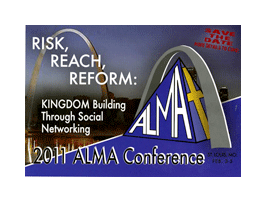 . 3-5 at the Crowne Plaza Hotel (St. Louis airport).
The "Risk, Reach, Reform" conference will focus on "Kingdom Building through Social Networking."
Leading presentations will be:
Gretchen Jameson, owner and principal of purePR, a St. Louis-based public relations firm. Jameson will lead participants through an intensive, daylong exploration of using "branding" and social media in a mission-and-ministry context.
Rev. Wayne Hamit, president of Mountain Movers International in Corinth, Texas, a ministry that links missionaries to mission needs in more than 40 countries. Hamit will discuss "Vision Catching: From Transactional to Transformational."
Bruce Wurdeman, executive director of Lutheran Hour Ministries, St. Louis, who will address "Walking Together."
Leading the conference closing devotion will be Dr. Marshall R. Gillam, executive director of Lutheran Bible Translators in Aurora, Ill.
The three-day event also includes an opening worship service at Bethlehem Lutheran Church, St. Louis; morning devotions; and networking opportunities.
ALMA is an organization that "connects and equips" more than 90 Lutheran mission agencies, congregations and individuals. It encourages cooperation in mission efforts and works alongside the LCMS. Its annual conference is designed to bring together ALMA members — and anyone interested in mission work — for information sharing and networking.
Registration for the conference is $75 ($95 Feb. 1) and includes lunch and dinner on Feb. 4. Rooms at the Crowne Plaza Hotel are $69 per night, including breakfast and Internet access.
For more information or to register, click here or call Ken Reiner, director of operations, at 314-996-1317 or 314-231-9615 (cell).
Posted Jan. 28, 2011