Concordia Theological Seminary, Fort Wayne, announced May 21 that Dr. Lawrence R. Rast Jr. will serve as its 17th president.
Rast, 48, currently serves the seminary as academic dean and professor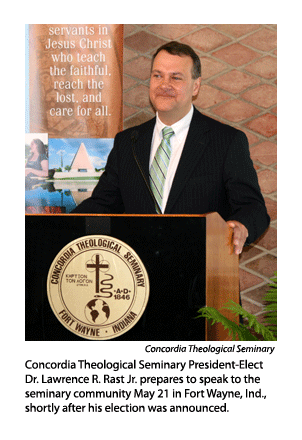 of American Christianity and American Lutheranism. He will succeed Dr. Dean O. Wenthe, 66, who has served as president since 1996.
Wenthe announced his retirement in January, and said he plans to step down from the post when his successor is installed. An installation date for Rast has not yet been set.
"This place is a gift of God. But the people who are part of this community are truly the gifts of God," Rast said after his election was announced. "As we begin to step forward into a new time, we look forward to all kinds of changes. … But one thing never changes, and that is the grace of God in Jesus Christ for each and every one of us, Who has called us by name in our Baptisms, set us apart to be His own and given us the promise of everlasting life.
"That is why we are here. That is why we take this message of Christ out into the world that needs so much to hear it."
Rast joined the seminary's Department of Historical Theology in 1996 after serving as pastor of Ascension Lutheran Church, Madison, Tenn. (1992-96). He received his B.A. from Concordia College (now Concordia University Chicago), River Forest, Ill., in 1986, and his M.Div. and S.T.M. degrees in 1990 and 1995, respectively, from Concordia Theological Seminary, Fort Wayne. He earned his Ph.D. in 2003 from Vanderbilt University, Nashville, Tenn.
Rast also serves the seminary as archivist and associate editor–Book Reviews for the Concordia Theological Quarterly. He is a member of the Board of Editorial Advisors for the journal Lutheran Quarterly and of the editorial committee of the Concordia Historical Institute Quarterly. Since 2006 he has served as a faculty representative on the Synod's Commission on Theology and Church Relations (CTCR), and has been CTCR chairman since 2010.
In his May 21 remarks about Rast's election, Wenthe said, "This is indeed a joyful moment. Dr. Rast has served beside me for years and done a superlative job as academic dean. He brings a depth of theological knowledge and wisdom and creativity.
"And one of the great blessings is [that] he'll take our seminary from this technologically challenged leader into a whole new wonderful network. I think, under his leadership, the seminary will go viral — and millions will hear about us, and hear the Good News with faithfulness and charity through his leadership.
"I couldn't be happier," Wenthe continued. "I'm like the pastor who knows that his successor is going to hold up — and even improve on — the vision. God bless you, Dr. Rast."
To watch a video of the seminary's announcement of Rast's election — including additional comments from seminary Board of Regents Chairman Rev. Wayne Graumann, LCMS President Dr. Matthew C. Harrison and LCMS Board of Directors Chairman Dr. Robert T. Kuhn — click here.
Posted May 23, 2011