Free resources are available to help congregations celebrate Lutheran Hour Ministries (LHM) Sunday on Feb. 6 or an alternate date. The theme of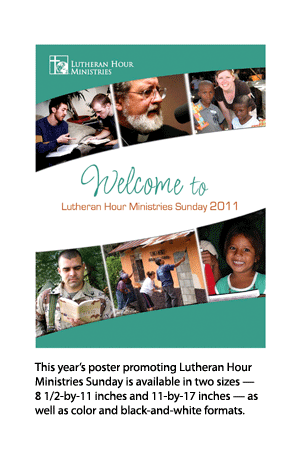 this year's materials is "We are witnesses of these things," from Acts 5:32.
This year, to support the ministry efforts of participating congregations, LHM is providing special incentives. Those that contribute $1,000 will receive a full set of Men's NetWork Bible studies on DVD to assist in their men's ministry efforts.
Congregations donating $1,500 will receive the Men's NetWork DVD set, plus an LHM Project Connect display stocked with booklets that Christians can use to share Christ with others.
All LCMS congregations should have received an LHM Sunday DVD and other promotional materials at the end of December. Bulk shipments of bulletin inserts and offering envelopes began arriving at churches the second week of January.
Additional materials and worship resources, including a sermon written by Rev. Ken Klaus, speaker emeritus of "The Lutheran Hour," are available online at www.lhm.org/lhmsunday. Also available online are LHM Sunday PowerPoint slides, posters and a children's sermon.
For more information, contact LHM at 800-876-9880 or ambassador@lhm.org.
Posted Feb. 3, 2011