Lutheran schools and their sponsoring congregations may order a variety of resources from LCMS School Ministry and Concordia Publishing House to promote "National Lutheran Schools Week"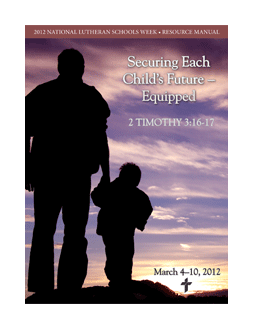 (NLSW), set for March 4-10, 2012.
This year's theme, "Securing Each Child's Future — Equipped," is based on 2 Tim. 3:16-17, "All Scripture is breathed out by God and profitable for teaching, for reproof, for correction, and for training in righteousness, that the man of God may be complete, equipped for every good work."
The ministry is offering a Worship Manual, available only in downloadable PDF format, that includes the 2012 theme song, congregational worship resources, school chapel services, classroom devotionals for early childhood through high school, suggested offering designation and promotional resources.
The manual ($15, item no. NLSW12Manual-E) may be ordered online through the LCMS Online Store at http://store.lcms.org. Also available is the 2012 theme poster. Order forms are available on the website or from the School Ministry office at 800-248-1930, ext. 1285.
NLSW items available from CPH — balloons, pencils and other classroom resources — may be ordered online at www.cph.org or by calling 800-325-3040.
LCMS School Ministry also announced that starting in 2013 NLSW will begin on the fourth Sunday in January.
"When National Lutheran Schools Week was established, the first week of March was chosen to coincide with re-enrollment time," said Bill Cochran, director of School Ministry for LCMS National Mission, in explaining the change. "The trend in recent years has been to begin the re-enrollment process earlier in the school year. The celebration of NLSW during March also often conflicts with the penitential, somber season of Lent. Therefore, it was decided at the last School Cabinet meeting that starting in 2013, National Lutheran Schools Week will begin on the fourth Sunday in January."
Future schedules for NLSW, under the theme of "Witness, Mercy, Life Together," are Jan. 27-Feb. 2, 2013; Jan. 26-Feb. 1, 2014; and Jan. 25-31, 2015. As always, schools may change their Schools Week celebration to meet their needs.
For more information about National Lutheran Schools Week, call the LCMS School Ministry office.
Posted Dec. 15, 2011