The Synod's Indiana District will hold the second annual Midwest retreat for retired LCMS church workers, or "Veterans of the Cross," Sept. 13-15 at the Lindenwood Retreat Center, 35 miles west of Valparaiso, Ind.
Dr. John Saleska, retired professor from Concordia Theological Seminary, Fort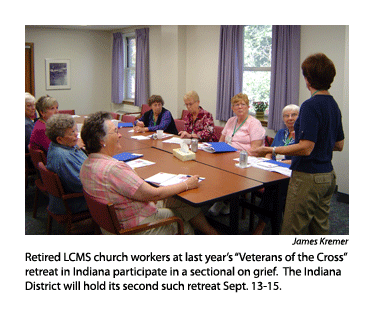 Wayne, Ind., will lead Bible studies based on the retreat's theme, "Opportunities to do Good," from Gal. 6:10: "As we have therefore opportunity, let us do good unto all men, especially unto them who are of the household of faith."
Dr. Rich Bimler, "ambassador of health, hope and aging" for Lutheran Life Communities, Arlington Heights, Ill., will review with retreat participants the main ideas of each day.
Also presenting will be Eustolio Gomez, director of Education for Concordia Plan Services, St. Louis; Dr. Dan May, Indiana District president; and Pastor Emeritus Rev. Richard Radtke and Rev. Dick Maassel, both from St. Paul's Lutheran Church, Fort Wayne. John Mueller of Holy Cross Lutheran Church, Fort Wayne, will lead the music.
The 48-hour retreat is open to retired or nearly retired church workers and their spouses, including pastors, teachers, professors, directors of Christian education, directors of Christian outreach, principals, early childhood directors, deaconesses, lay ministers, church musicians and support staff members who have served in any congregation, school or organization from any state or district.
Activities include worship, Bible study, recreational and educational options, and evening social hours.
Following are comments from evaluations the district received from participants after last year's retreat.
"I came simply to hang out for 48 hours with all these interesting people. I was blessed by the fellowship and by the great richness and depth of all the presentations. Absolutely amazing! No weak links."
"It was better than I expected! The program was always on time. Enough time to stretch, relax and intermingle. Bimler was great; so were all the presentations. Liked the service in big chapel. Good choice of presenters."
Registration costs vary, according to options chosen.
For more information and to register, visit www.in.lcms.org or contact Registrar Nancy Losher at nancy.losher@in.lcms.org, 800-837-1145, ext. 208; or Event Coordinator Dave Ebeling at dave.ebeling@in.lcms.org, 812-322-6503.
Posted June 20, 2011