By Kim Plummer Krull
As students prepared to start classes at Concordia College, Selma, Ala., on Aug. 17, administrators and faculty say work they tackled earlier in the month will help the country's only historically black Lutheran c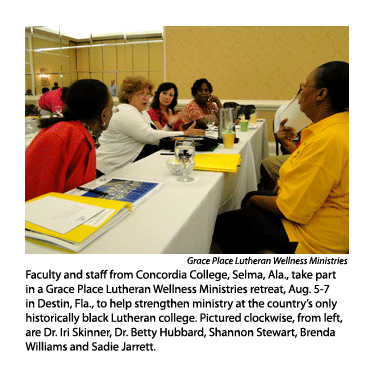 ollege continue to overcome challenges and strengthen its unique ministry.
Dr. Angela Sullivan, assistant professor of psychology, said the Grace Place Lutheran Wellness Ministries retreat, Aug. 5-7 in Destin, Fla., spotlighted "the importance of knowing God and keeping Him first, no matter what situations are thrown our way."
"Living spirit-filled lives not only promotes a healthy work environment, but provides a Christ-centered environment conducive for learning [and] … that is the mission of Concordia College, Selma," Sullivan said in an email.
About 80 faculty, staff and administrators took part in the retreat, a Grace Place first. The LCMS Recognized Service Organization typically hosts retreats for graduating Concordia seminary students and LCMS church-work couples, but this weekend of wellness and encouragement programs focused on Concordia's faculty and staff.
Participants call the retreat another positive step on the heels of reaffirmation of Concordia's accreditation in June by the Commission on Colleges of the Southern Association of Colleges and Schools (SACS). SACS had placed the college on "probation" status two years ago.
Concordia College President Rev. Dr. Tilahun Mendedo said the retreat was "an eye-opener" and "a time for hearing the Word and being healed by His power." The focus "on communication, personality, leadership and healing through the Word of God was vital," Mendedo said in an email. "It united us and reminded us not to forget our sinful nature."
"We looked at our weaknesses and our strengths. We resolved to focus on 'we' rather than 'me' in our college ministry for the betterment of each other and our students and to the glory of God. We were refreshed daily by the Word, prayer and self-examination," Mendedo wrote.
Anchored around three daily prayer times, the retreat gathered faculty and staff for educational sessions and small-group workshops aimed at enhancing physical, spiritual, emotional, financial, vocational and interpersonal well-being. Reflecting the theme "Celebration of Unity: On the Road to Healing," retreat leaders shared strategies to help participants improve communication, resolve conflict and strengthen a common sense of purpose.
While acknowledging Concordia's challenges, Grace Place Executive Director Dr. John Eckrich called the retreat "a place to turn the corner."
"It was exciting to see the vision that bubbled up from the faculty at what they could be for the LCMS, for the Selma community and for black and ethnic cultures," said Eckrich. Retreat leaders also included the Rev. Dr. David Ludwig, Grace Place associate director; the Rev. David Muench, director of Ministerial Care for Concordia Plan Services; and the Rev. Quentin Poulson, director for Ethnic and Black Ministries with the LCMS.
Mendedo requested the retreat after meeting Eckrich and being "inspired by his approach of spiritual and physical healing for the whole person." Grace Place is a St. Louis-based continuingeducation ministry that promotes health and wellness for LCMS church workers and ministries.
Like other academic institutions, Concordia tackles tremendous challenges, Eckrich said, "facing increasing demands with continually diminishing resources." Another hurdle, he adds, is meshing new ideas from younger staff with older, more traditional views already on campus.
"Our Lutheran schools are such a powerful part of the LCMS ministry, providing a Christ-centered education and planting a legacy in students that's not just academic or intellectual but also about how to live healthy lives and to live life abundantly," said Eckrich, who hopes to use this retreat as a template for wellness and encouragement programs for other LCMS school faculties.
Funding for the retreat was provided by a Thrivent Financial for Lutherans grant to LCMS Black Ministry.
"This is a wonderful moment in the life of Concordia, Selma," said LCMS President Rev. Dr. Matthew C. Harrison. "We are thankful to be a part of it."
Concordia was founded in 1922 by LCMS missionary-educator Dr. Rosa Young. Enrollment for the 2011-2012 school year is 700, including students from across the United States and from a variety of countries.
As she prepared for the start of classes the next day, Timeka Ross said work she accomplished at the retreat "will definitely be helpful" in this new academic year. The English instructor and track-and-field coach said she left the retreat feeling "spiritually enlightened," with a stronger "ability to understand that everyone has differences, of course, but that we can gain insights from other points of view and use those insights to work together."
Angela Sullivan agreed. When people "have a positive relationship with God," she said, no challenge or obstacle is too big "when God is placed first."
For more information about Concordia, Selma, visit www.concordiaselma.edu.
To learn more about Grace Place, visit www.graceplaceretreats.org.
Kim Plummer Krull is a freelance writer and member of St. Paul's Lutheran Church, Des Peres, Mo.
Posted Aug. 24, 2011