Both LCMS seminaries will hold visitation events for high school students this summer.
Concordia Theological Seminary, Fort Wayne, Ind., will hold a two-week "Christ Academy — High School" June 19-July 2 on its campus for high school-age men.
The program for youth who are considering the pastoral ministry includes daily prayer and worship services, athletic activities and classes on exegetical,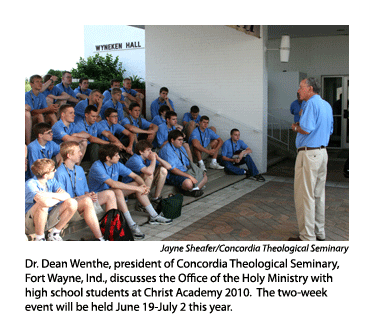 systematic, historical and practical theology. Participants also may take part in choir performances.
Seminary professors will lecture on such topics as theology of the cross, proper distinction between law and Gospel, the economy of salvation, ethics at the beginning and end of life, the book of Romans from a Lutheran perspective, Psalms as a prayer book of the Bible, and the Lutheran Confessions. In addition, professors will host "fireside chats" on a range of topics in a more informal setting.
Registration is $500, which covers tuition, meals, lodging and activity fees. Additional costs include books, some snacks and optional activities. Trips are planned to Cedar Point Amusement Park, Sandusky, Ohio, and to a game of the TinCaps, Fort Wayne's minor league baseball team. Deadline for registering is June 1.
"This is no ordinary summer camp," said Joshua J. Woelmer, a first-year seminarian at Fort Wayne and student director of the 2011 Christ Academy. "Nowhere else will you have such an opportunity for daily worship. Nowhere else will you receive such deep and comprehensive studying of the Bible and theology. Nowhere else will you meet and enjoy time with other youth who have the same beliefs and values, forming lifetime friendships with them."
For more information, call 800-481-2155, send an email to ChristAcademy@ctsfw.edu or visit www.ctsfw.edu/christacademy.
Concordia Seminary, St. Louis, will host its 13th annual "Vocatio" June 18-24 on the seminary campus. The event is designed to identify, inform and encourage youth with respect to church-work vocations.
Activities during Vocatio will focus on the Bible verse, "Therefore, I urge you, brothers, in view of God's mercy, to offer your bodies as living sacrifices, holy and pleasing to God, this is your spiritual act of worship. Do not conform any longer to the pattern of this world, but be transformed by the renewing of your mind. Then you will be able to test and approve what God's will is, His good, pleasing, and perfect will" (Rom. 12:1-2).
Participants will explore this theme through the four disciplines of the formation of ministry: exegetical, systematic, historical and practical. Seminary professors will lead Bible studies and discussions about vocation throughout the week.
Students also will have the opportunity to take part in a "servant event" during the weeklong event. Past events have included work at St. Louis-area congregations and the Saxon Lutheran Memorial in Frohna, Mo.
A $150 registration fee to attend Vocatio is the only charge for youth, in addition to travel costs. All activities, meals and on-campus lodging are provided at no cost. Scholarships are available to ensure that travel costs do not prevent youth from attending. Registration is limited to young men and women entering ninth-through-12th grades.
The registration deadline is June 1. For more information, send an email to the Admissions Office at admissions@csl.edu or call 800-822-9545. To register online, visit the seminary's website at www.csl.edu.
Posted May 26, 2011