St. John Lutheran Church and Concordia University Nebraska — both in Seward, Neb. — are sponsoring a July 27-29 national worship conference at their facilities.
The conference is open to all interested pastors, musicians and laypeople.
To register online and for complete information about the conference, go to its website at http://seward2011.org. For printed registration forms, contact St. John Lutheran Church, 919 N. Columbia Ave., Seward, NE 68434; phone: 402-643-2983; e-mail: info@seward2011.org.
With the theme of "Sing His Praise, His Love Declare," the conference program "has been organized to allow participants to learn from some of the best t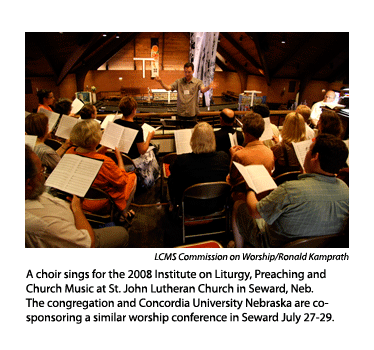 eachers in the field of worship and church music," according to the website.
"Preachers, plenary speakers and worship services will point us to the cross and the love of God for His people, enabling His Church to confess the Gospel message in both word and song," it states.
Scheduled presenters include Dr. Carl Schalk, Dr. Carlos Messerli, Paul Bouman and LCMS President Rev. Matthew C. Harrison, along with faculty members at Concordia Nebraska, those from other LCMS congregations and schools, and from Concordia Publishing House.
The schedule lists daily worship, four plenary events, three in-depth seminars during which attendees will learn about a single topic they select, five "breakout" sessions on a variety of topics, vendor displays and fellowship opportunities.
Registration is $95 per person, covering all sessions and a Thursday banquet. One-day registration is $50, including that day's sessions and meals.
Housing at Concordia University Nebraska is $30 per person, per night for single rooms and $15 per person, per night for double occupancy. A meal plan also is available for $32.
The conference will be similar to the former LCMS Commission on Worship's Institutes on Liturgy, Preaching and Church Music held in recent years, according to a statement on the "Worship" page of the Synod website.
The statement explains that plans were laid aside for a commission-sponsored institute this summer, "in light of Synod restructuring, including the elimination of the commission and significant personnel changes at the [LCMS] International Center." It also expresses "our deep desire that by working with the Synod's agencies, schools and seminaries, we will be able to revitalize this event" within the next three years.
Posted Feb. 3, 2011