U.S. Rep. John Shimkus (R-Ill.) told more than 100 people attending the 2011 KFUO Radio Founders Dinner Oct. 23 at the Forest Park Golf Course Clubhouse in St. Louis of his devotion to KFUO and the big part it plays in his daily life.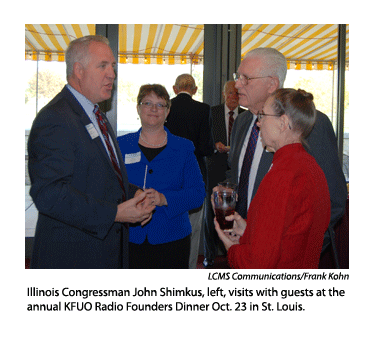 "I love [Synod-owned] KFUO, as many of you know," said Shimkus, an active member, with his family, of Holy Cross Lutheran Church (LCMS) in Collinsville, Ill. "I have Classic99 streaming in my office."

Shimkus said he has two dials set in his 2005 Chrysler Town & Country van. "[My radio is on] either KMOX or KFUO," he said, KMOX-AM being the dominant news-and-talk station in St. Louis. "Whether it's 'Law and Gospel' [or] 'The Bible Study,' " KFUO's programming has "been a treasure, and what I've been able to do is weave that into my Bible class a lot, the things I hear on the air."

Synod President Rev. Dr. Matthew C. Harrison also spoke at the event.

The Founders Dinner is an annual gathering honoring donors and other friends and supporters of KFUO, which is the longest continuously operating religious radio station in the world. In the past, the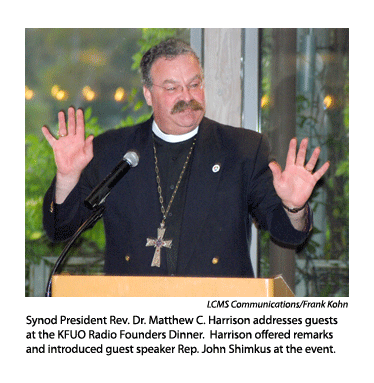 dinners have focused on KFUO-AM, but with the sale of sister-station KFUO-FM Classic99 in 2010, the event now highlights the Classic99 audio stream as well.

"Our mission going forward," said the Rev. Michael Kumm, senior pastor of Trinity Lutheran Church, Millstadt, Ill., and interim general manager of KFUO, "is to emphasize that we no longer are two more or less separate entities, the AM station and the FM station. Rather," he continued, "we are one ministry, one family, each part complementing the other — the AM side broadcasting, in a distinctively Lutheran fashion, the theology of the Reformation, while the audio stream delivers — seven days a week, 24 hours a day — the finest classical and sacred music the world has ever known."

KFUO-AM 850, which also can be streamed either live or via archived shows 24 hours a day, is on the air in the St. Louis area from dawn to dusk. It and the classical-sacred stream can be accessed on the Web at http://www.kfuo.org and http://classic99.com, respectively.

KFUO-AM aired its first public broadcast in 1924 from a small attic room on the grounds of the old Concordia Seminary, St. Louis. Its current broadcast schedule includes worship services, inspirational music, and especially in-depth study of God's Word. Both it and the classical-sacred stream receive the bulk of their funding from gifts.
Posted Oct. 24, 2011/Updated Oct. 25, 2011