The Lutheran Church–Missouri Synod is planning several two-day tours of historic Lutheran sites in St. Louis and Perry County, Mo., this fall as part of the national church body's 200th birthday celebration of its first president, Dr. C.F.W. Walt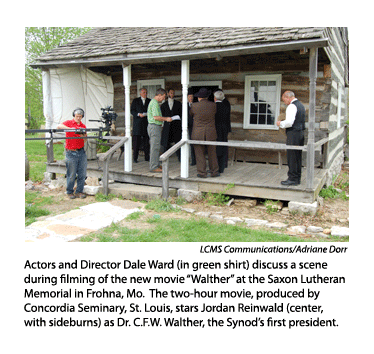 her.
Sites on the tours (dates to be determined) will include the LCMS International Center; Historic Trinity Lutheran Church; Concordia Seminary; Concordia Historical Institute; the Saxon Lutheran Memorial, Lutheran Heritage Center and Museum; Hill of Peace Lutheran Church; and Concordia Cemetery, where the Walther Mausoleum is located.
A number of LCMS entities and congregations are planning to recognize the bicentennial of Walther's birth with special events, activities and resources beginning this fall and extending through the 125th anniversary of his death in 2012.
"C.F.W. Walther has been hailed as an 'American Luther' — he was an avid student of Luther's writings, and they shaped the transformative role Walther played in 19th-century American Lutheranism," said LCMS President Dr. Matthew C. Harrison. "How appropriate that we recognize his bicentennial year! For in his day, Walther recognized the unique role of the Lutheran Church in America. That role is ours yet today."
In addition to the above tours, upcoming Walther Bicentennial activities include:
the new "Walther" movie: Concordia Seminary, St. Louis, is producing a high-definition video series that will follow the life of Walther, present a history of the LCMS, and — through the study of Walther's life and teachings — provide viewers with a better understanding of the importance of the Holy Scriptures and the Lutheran Confessions.
A DVD of the two-hour movie, "Walther," will be mailed to each LCMS congregation at the end of September, along with information about resources that will include commentaries by Walther scholars, interviews with current and former presidents of the LCMS and its two seminaries, Bible-study materials and a study guide.
"This DVD series is designed to be a valuable resource for pastors, schools and churches for use in Bible studies, classrooms and confirmation classes," said Executive Producer John Klinger, who also serves as chief information officer at the seminary.
tours of Germany: Concordia Seminary, St. Louis, President Dr. Dale A. Meyer and Klinger will host a 14-day tour July 5-18. LCMS President Dr. Matthew C. Harrison and Rev. Jon Vieker, senior assistant to the LCMS president, will host a 12-day tour Nov. 30-Dec. 11. Both tours will focus on sites that were significant in the lives of both Walther and Luther. Also included in the later tour will be visits to several of Germany's Christmas markets.
the Historic Trinity Lutheran Church Walther Bicentennial Celebration Service: A special celebration service is set for 2 p.m. Sunday, Oct. 23, at Historic Trinity Lutheran Church, 1805 S. Eighth St., St. Louis. The service will include special speakers in the church where Walther was a pastor from 1841 until his death in 1887.
Concordia Publishing House's Reformation Theology Research Award: To encourage the study of historical theology, the Professional and Academic Book Team at Concordia Publishing House, St. Louis, is offering cash prizes for research papers and commemorative sermons and prayers that relate to Walther. The winning author will receive a $1,200 cash award and second place will receive $600. The person who writes the best commemorative sermon and prayer will receive a $200 award. The award-winning papers, other selected papers, and the best commemorative sermon and prayer will be published in a book later this year. The entry period for submissions ends Oct. 31.
a Walther Look-Alike Contest: The Saxon Lutheran Memorial historic site in Frohna, Mo., will mark the 200th anniversary of Walther's birth during its 31st Annual Fall Festival from 9 a.m. to 4 p.m. Oct. 8. The festival will include a special "Dr. C.F.W. Walther Look-Alike Contest."
Walther, who was born on Oct. 25, 1811, joined the Saxon Germans who immigrated to the United States in 1838, and at the age of 26 found himself leader of the group that settled in Perry County, Mo. In 1847, he played a key role in the founding of the LCMS, which now ranks as one of the largest Christian denominations in the United States with more than 2.3 million baptized members in some 6,200 congregations.
"C.F.W.Walther was a towering figure of 19th-century Lutheranism," said Larry Lumpe, director of the Concordia Historical Institute in St. Louis. "His knowledge of and unwavering commitment to the Lutheran Confessions and the theology of Martin Luther provided a firm foundation for the growth and development of the Missouri Synod. Through his tireless ministry as preacher, teacher and writer, he offers a lasting legacy for the church of the 21st century as it proclaims the precious Gospel of Jesus Christ throughout the world."
To find out more about the Walther Bicentennial, visit www.lcms.org/walther200.
Posted July 29, 2011