A four-disc DVD collection — including the new, two-hour movie "Walther," based on the life of the Synod's first president, the Rev. Dr. C.F.W. Walther — was mailed in late September to LCMS congregations, schools, colleges, universities and seminaries.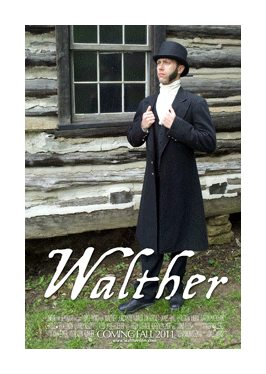 The mailing also included a five-part Bible study with study guide, commentaries by Walther scholars and interviews with current and former presidents of the LCMS and its two seminaries.
"This DVD series is designed to be a valuable resource for pastors, schools and churches for use in Bible studies, classrooms and confirmation classes," said Executive Producer John Klinger, who also serves as chief information officer at Concordia Seminary, St. Louis.
Premiere showings of the new film are scheduled for:
Oct. 8, 6 p.m., during the Fall Festival at the Saxon Lutheran Memorial in Frohna, Mo. http://saxonlutheranmemorial.com/ This special outdoor showing includes a bonfire and photo opportunities and autographs with "Walther" actors. Tickets are $1 each.
Oct. 10, 6:30 p.m., at the Des Peres 14 Cine in Des Peres, Mo., a suburb of St. Louis. The event will include a live performance by musician and composer Peter Mayer, who will perform music from the movie prior to the showing, and appearances by the movie's cast and crew. To purchase a ticket, click here.
Oct. 25, the 200th anniversary of Walther's birth, at 3:45 p.m. at Concordia Seminary, St. Louis. The showing is free and open to the public.
Available for purchase, beginning in October, are the "Walther" movie:
four-DVD set ($24.99),
soundtrack ($14.99), and
poster ($4.99).
To order, visit the Concordia Seminary bookstore, in person or online at https://store.csl.edu, or www.amazon.com.
For more information, or to watch a trailer for the film, click here.
Posted Sept. 28, 2011