According to Rev. Manabu Wakabayashi, "Our greatest concern is the nuclear power plant crisis in Fukushima." Wakabayashi is pastor of Shirone Lutheran Christ Church in Niigata, Japan, and a 2002 graduate of Concordia Theological Seminary, For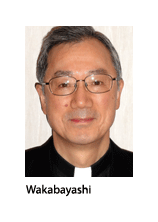 t Wayne.
Niigata is about 120 miles west of the devastating March 11 earthquake's epicenter and the nuclear power plant disabled by the disaster.
In a March 17 e-mail to the LCMS, Wakabayshi indicated concern over the spread of radiation from the damaged reactors at the nuclear power facility in Fukushima, despite tireless effort to cool the crippled plant.
The government has issued evacuation orders to residents within several kilometers of the plant, though "many people in Fukushima began to evacuate to other places by their own judgment," Wakabayashi wrote. Some have traveled to Niigata, where Wakabayshi and his family live. While most are taking shelter in public buildings, members of Wakabayshi's church believe that they will soon be asked to take evacuees into their own homes until the nuclear problem is solved.
Wakabayashi and his wife intend to remain in Niigata with his church and its members. "The crisis level is getting worse, but we still have hope. We have Jesus Christ, the Lord Almighty who says, 'Call upon Me in the day of trouble; I will deliver you, and you will honor Me' (Psalm 50:15)."
While indicating that, "right now we think we are safe," Wakabayashi added that no one knows the level of danger if there is a nuclear meltdown at the power plant. "Some people estimate that the radiation from the nuclear fuel in the Fukushima plant is the same radiation level as ten thousand nuclear bombs," he wrote. If that projection turns out to be true, he worries that "we have no place to evacuate other than to escape to foreign countries."
But help from those countries is beginning to arrive as well. American rescue teams are now on the scene accompanied by rescue dogs. "We Japanese thank many countries, including the USA, for sending rescue teams to Japan," wrote Wakabayashi. "They are cooperating with the Japanese government in order to rescue survivors."
He wrote of the rising numbers of deaths in Japan, as well as those in shelters and missing. As of March 18, news outlets reported 6,911 deaths, and that 380,000 people were in shelters, with another 10,316 missing.
"Many survivors," Wakabayashi noted, "are searching for their missing family members."
Despite the tenuous situation, he remains hopeful. Indicating that no time has been wasted in repairing the Japanese infrastructure, he is heartened by the fact that "the rebuilding has started." Some of the main roads "are almost recovered" and even side roads "to seaside towns are being cleansed in order to be passable. In addition to the roads, four sea ports and five airports are now available." Telephone and electricity have started to be restored to some areas, but he expects that fixing water and gas lines will take at least a month.
To contribute toward the LCMS response to the Japan earthquake and tsunami:
mail checks (noting "Japan Disaster Relief" in the memo line) to LCMS World Relief and Human Care, P.O. Box 66861, St. Louis, MO 63166-6861.
call toll-free 888-930-4438.
visit online at Disaster Relief Fund for Japan.
For more information and resources, visit www.lcms.org/help.
Posted March 18, 2011