Synod congregations' youth groups are being invited to plan a "Servant Saturday" in June to mark "Youth Ministry Month" in the LCMS.
A news release from LCMS Youth Ministry notes that it joins Lutheran Youth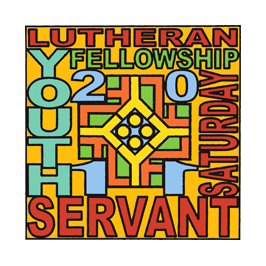 Fellowship in recognizing "that young people serve in a variety of ways," which was discussed at a March 17-20 LYF leadership training event in St. Louis.

Connecting such service to the June Synod emphasis, "the youth decided to invite youth groups to participate in a day of service" during the month," the release states. "The idea is to encourage young people in their response to God's love shown in Christ through their service to others."
Among suggestions the release gives for youth groups are that they choose their own servant activities for a Saturday in June and consider partnering with another local Synod congregation for those activities.
According to the news release, the six youth on the LYF executive team "suggest consideration for serving on June 18 (the day before Father's Day) in honor of our Heavenly Father."
Youth groups also are being encouraged to share their intention to serve at the online "LYF Servant Saturday Link" (http://www.surveymonkey.com/s/spxvttv). The release indicates that such intentions will be listed in a directory of events, "so that you can see who is serving in your area and others." Each group also may post a picture from their event in the "LYF Servant Saturday" album of the LCMS Youth Ministry Facebook page (at www.facebook.com/LCMSyouthministry).
Ideas for projects are on the "Servant Event" Web page at http://servantevents.lcms.org/yrofserv.asp.
To download an LYF Servant Saturday logo to promote the event — also suitable for transfer to clothing — go to http://bit.ly/i28nvk for a black-and-white version or http://bit.ly/fwxqxv for color.
For more information about Lutheran Youth Fellowship, visit LCMS Youth Ministry's Web page at www.lcms.org/youth.

The six teens who serve on the Lutheran Youth Fellowship executive board and provide leadership for the LYF Teen Leadership Initiative are Zach Koester of Metarie, La.; Zach Oedewaldt, La Mesa, Calif.; Katie Worral, Fargo, N.D.; Erin Marcis, Napoleon, Ohio; Alex Augustyniewicz, Wichita, Kan.; and Sean Bartlow, St. Louis.
Posted May 12, 2011