The 2012-13 edition of Chapel Talks for Lutheran Schools is now available in a downloadable PDF format.
Its focus for the year is "Live Love[d]," based on I John 4:9. That also is the theme for the 2013 LCMS National Youth Gathering.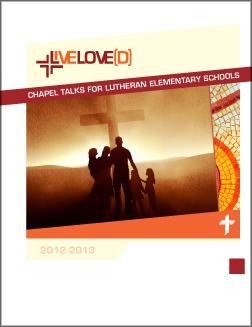 As pointed out in the first lesson of the new edition, the focus reminds students that "the purest love … is of our Heavenly Father who sent His Son, Jesus, to walk this earth, die on the cross and be raised from the dead. … It is a love that is sacrificial, forgiving and everlasting." It is a "love [that] transforms lives for service to God and others."
Written by professional church workers in the Synod, Chapel Talks offers guidance in leading Christ-centered and life-related chapel services throughout the school year.
Each weekly devotion includes scriptural readings, a message outline and hymn suggestions.

For the first time, Chapel Talks is available in two separate sets — one for elementary students and another for high-school students. The cost is $15 for each set or $25 for both.

Chapel Talks may be ordered through the LCMS Online Store, using Visa or MasterCard. For credit-card orders, go to store.lcms.org and type "Chapel Talks" in the "Search" box. For payment by check, call 314-996-1285.
Chapel Talks is produced by LCMS School Ministry — Office of National Mission.
Posted August 6, 2012.