By Sarah Schafer
LCMS-congregation members are safe after three dozen wildfires across Oklahoma torched more than 93,400 acres since they started Aug. 3. The LCMS Oklahoma District reported Aug. 7 that the only known loss among members is a barn belonging to a family at Holy Trinity Lutheran Church, Edmond.

Some three dozen homes are among the 120 structures in Oklahoma that burned to the ground, according to state emergency per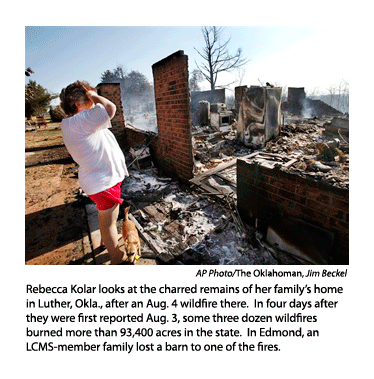 sonnel. On Aug. 6, an unidentified body was found by firefighters in a home near Norman, Okla.

Holy Trinity's pastor, the Rev. John Huss, said the congregation is looking for ways it might assist people affected by wildfires. That includes those in Edmond and in rural areas of Jones and Luther (where there are no LCMS congregations). Oklahoma District President Rev. Barrie Henke also serves as a pastor at Holy Trinity.

"The thing about these types of fires is they start and spread really fast, and they burn with extreme intensity," said the Rev. Glenn F. Merritt, director of LCMS Disaster Response. He said that the Synod's disaster-response arm stands ready to assist local congregations, as needed.
The majority of those forced to evacuate from the areas hit by the Oklahoma wildfires returned to their homes by Aug. 5. By the next day, most fires were said to be under control. However, additional fires were reported in three counties. All 77 Oklahoma counties remained under a state of emergency Aug. 7, due to extreme or exceptional drought conditions.
"Please keep our brothers and sisters across Oklahoma in prayer as they seek to serve those impacted by these devastating wildfires," said Merritt.

Sarah Schafer is a freelance writer and a member of Prince of Peace Lutheran Church, Springfield, Va.
Posted Aug. 8, 2012