By Kim Plummer Krull
When the International Lutheran Laymen's League's (Int'l LLL) outgoing President Mick Onnen passed the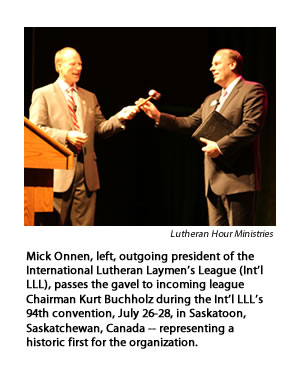 gavel to incoming Chairman Kurt Buchholz at the Int'l LLL's 94th convention, the action represented one of several historic firsts for the 95-year-old organization.
Buchholz, who serves as vice-president of Special Initiatives for Baltimore-based Lutheran World Relief, is the first to assume the Int'l LLL's top leadership post after being elected by a full-membership mail-in election, held last spring. Previously, Int'l LLL officers were elected by attendees at the group's conventions.
"What an honor it is to be standing here with each and every one of you as we look to the future around our common calling — the calling that brings light to the darkness in a very personal way," Buchholz said at the convention, July 26-28, in Saskatoon, Saskatchewan, Canada.
Buchholz, of Glen Arm, Md., is a former LCMS World Mission executive and missionary in Taiwan. He was installed along with 13 other new board members of the Int'l LLL, the governing body for Lutheran Hour Ministries (LHM), a Christian outreach ministry that produces communications to reach the unchurched in more than 30 countries.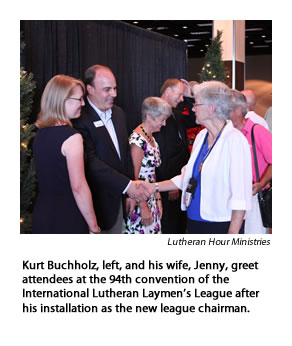 Buchholz thanked league members for the "honor and the confidence given to me to lead the new board as it seeks to hold fast to the strong foundations that have been laid by past and current leaders and to the [LHM] vision for a future, 'Bringing Christ to the nations — and the nations to the church.' "
The gathering featured the inaugural convention address by the Rev. Gregory Seltz, Lutheran Hour speaker, who opened another convention first — a mini-Regional Outreach Conference, a taste of a series of conferences hosted by LHM in 2011. Regional conferences also are on tap for 2013.
Through video and audience participation, Seltz shared examples of witnessing scenarios designed to sharpen evangelism skills.
"As a Christian, it is not just about running the race at the final day. It's about how you train," Seltz told attendees. "We want to empower you and give you skills so that you will be ready for the opportunities that God is going to send your way. God is going to send people who need to hear the Good News into your life . . . Will you be ready?"
'Sonrise to Sunset'
The Rev. Timothy Scharr, president of the LCMS Southern Illinois District and LCMS liaison to the Int'l LLL, brought greetings from LCMS President Rev. Dr. Matthew C. Harrison.
Scharr expressed Harrison's regret of missing the gathering during a busy summer of attending district conventions throughout the U.S. and praised LHM's "excellent and award-winning" outreach materials. "I encourage you to implore your pastors to take a new look at LHM publications and productions as tools for local ministry," he said.
In welcoming the nearly 600 attendees to Saskatoon, the Rev. Dr. Robert Bugbee, president of Lutheran Church–Canada, highlighted the convention theme: "Sonrise to Sunset," inspired by Ps. 113:3, "From the rising of the sun to its setting, the name of the Lord is to be praised."
"I think it helps us big-time to treasure the past as we should, and it helps us come to grips without losing our balance over the real troubles that conflict us right now. It's also going to go a long way toward pumping hope into your personal hearts for the future," Bugbee said.
Kay Kreklau, president of the Lutheran Women's Missionary League (LWML), was among several ministry leaders who greeted attendees from the convention main stage.
"We joyfully look toward the future, as together with the LLL, we passionately share the Good News of salvation in Jesus Christ," she said. "As the Lord guides both of our organizations, we know that great things will be done in His name."
The LWML and Int'l LLL are LCMS auxiliaries.
Philip Krauss II, of Westland, Mich., was installed as the board's vice-chair. The other new board members are: Londa Borer-Skov, Sacramento, Calif.; Michael E. Brown, Westminster, Colo.; Jack Ficken, Fairview, Tenn.; Richard Gast, Mission Viejo, Calif.; Phillip Gnadt, Hickory, N.C.; Phillip Johnson, Maplewood, Minn.; Kay Meyer, St. Louis, Mo.; Andreas Schwabe, Edmonton, Alberta, Canada; Weldon Schwiebert, Westland, Mich.; Richard Sindlinger, York, Pa.; William Snow, Watertown, S.D.; and Janice Wendorf, Grafton, Wis.
The board members' installation follows changes in the Int'l LLL governance structure over the past few years, replacing the former board of governors leadership with the new board of directors and leading to the mail-in election process.
The league's next international convention is set for 2014 in Dearborn, Mich. To learn more about the Int'l LLL and Lutheran Hour Ministries, visit www.lhm.org,
Kim Plummer Krull is a freelance writer and member of St. Paul's Lutheran Church, Des Peres, Mo.
Posted Aug. 3, 2012