The Lutheran Church–Missouri Synod's Ministry to the Armed Forces is one of 15 organizations named as a 2011 "Secretary of Defense Employer Support Freedom Award" nominee for the St. Louis area.

The award is the highest recognition given by the U.S. Department of Defense to employers for their support of employees who serve in the National Guard and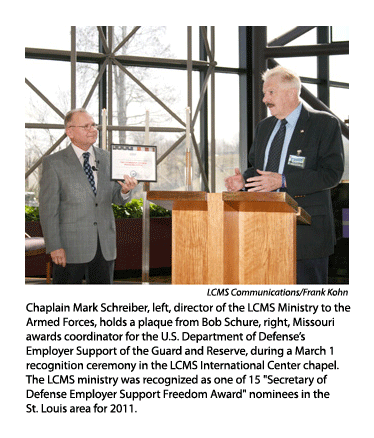 Reserve.

The Freedom Award is presented annually to the nation's 15 most supportive employers from nominees nationwide. The nomination season opens the first working day of November and closes the third Monday of January.

Bob Schure, awards coordinator for Missouri for the Employer Support of the Guard and Reserve, presented the nomination certificate to Chaplain Mark Schreiber, director of the LCMS Ministry to the Armed Forces, March 1 at the LCMS International Center in St. Louis.

Schreiber said being a Freedom Award nominee was a "special honor" for the ministry that supports the men and women who serve the U.S. military.

"Everyone comes back different from a war zone," Schreiber said. "There's trauma. There are wounds. There are psychological events that transpire and flash back year after year. This ministry was created to reach out to them, to welcome them back home and to find a place in society, the very society they defended with their expertise on the battlefield."

Nominations for the "Freedom Award" must come from a Guard or Reserve member who is employed by the organization he or she is nominating or from a family member. The award was created to publicly recognize employers who provide exceptional support to their National Guard and Reserve employees.

Navy Reserve Chaplain Mark Moreno, pastor of Hope Lutheran Church in Melbourne, Fla., nominated the LCMS Ministry to the Armed Forces for the award.

Since the Civil War, LCMS pastors have served as military chaplains. Today, the LCMS Ministry to the Armed Forces supports a total of 207 chaplains. Among these chaplains, 67 are active-duty LCMS chaplains and 82 are serving Reserve and National Guard units. Currently, four of these Reserve/Guard chaplains are mobilized and serving at sea or in Afghanistan or Kuwait.

LCMS Ministry to the Armed Forces also supports 25 Veterans Administration chaplains, 29 Civil Air Patrol chaplains and four chaplains for the Federal Bureau of Prison ministry. Learn more at http://www.lcms.org/armedforces.
For more information about the Secretary of Defense Employer Support Freedom Award, visit www.freedomaward.mil.
Posted March 2, 2012