By Sarah Schafer
According to early reports Saturday, March 3, LCMS congregations and members were spared by the severe storm system Friday that produced dozens of tornadoes across 10 states, killing 35 in Kentucky, Indiana, Ohio and Alabama, and resulting in miles of destruction.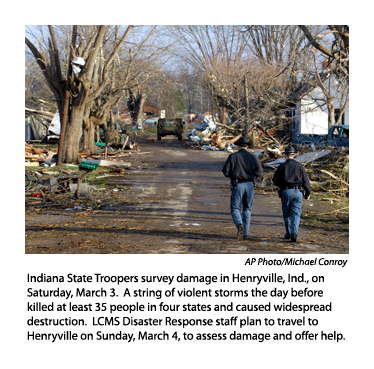 "God has spared us," wrote the Rev. Bernie Ansorge of Ascension Lutheran Church, Huntsville, Ala., in an email Friday to LCMS Disaster Response personnel. Nearly one year ago, the area was struck by deadly tornadoes.
"I know of no property damage at this time to LCMS buildings or members. That may change as more reports come in," Ansorge said via email. "Portions of our area are still without power, and local officers are restricting access to locations where damage is more concentrated."
A number of tornadoes touched down near Huntsville, Ala., Friday, damaging homes, schools, churches, businesses and a state prison, according to Ansorge.
"We are currently contacting local congregations as we become aware of areas that are hit," said the Rev. Dr. Edward O. Grimenstein, manager of LCMS Disaster Response, who was in contact Friday afternoon with LCMS churches in Indiana, Alabama and Kentucky.
"About half of them have confirmed no major LCMS damage or fatalities. The other half, I had to leave messages at their churches. It is a good sign if I can leave a message because that means they have electricity," Grimenstein said.
He also is contacting LCMS district presidents, as needed.
Within 25 miles of hard-struck Henryville, Ind., there are 16 LCMS churches alone. Grimenstein and LCMS Director of Disaster Response Rev. Glenn F. Merritt will travel to Henryville on Sunday, March 4, connecting with the Indiana District disaster team, headed by newly appointed coordinator Geoff Robinson, to assist LCMS congregations with disaster assessment.
"I have been advised that … no one is being allowed into Henryville or Maryville without proper credentials," said Merritt.
The team will identify opportunities to provide mercy to those impacted in the areas surrounding Henryville.
"Mercy, of course, extends to all in need, but we must find the right venue for providing mercy in this case," said Merritt.
This storm system comes on the heels of the Feb. 28-29 storm that killed at least 12 and injured more than 100. LCMS churches and members in Illinois, Kansas and southern Missouri seem to have escaped major damages. (To read related stories, click on these headlines: "Tornado relief volunteers: call first" and "Storms pummel Midwest, LCMS churches spared.") Merritt will visit Branson, Mo., and Harrisburg, Ill., early next week to assist with disaster assessment.

In light of the "spring weather pattern upon us" on Friday, Merritt asked LCMS Lutherans to "please consider supporting the disaster-response program of the LCMS so that we can provide assistance to local LCMS congregations and districts as they respond to the needs of those affected by this severe weather."

For the LCMS, the Tornado Relief Fund allows the Synod to hit the ground running when disaster strikes. Following the unprecedented number of tornadoes in 2011, the fund is entering the 2012 storm season with limited resources. Contributions today will enable the LCMS to respond in Christ's name when and where there is a need following a tornado or other damaging storm.
To help:
Make an online donation (click here).
Mail checks (payable to "The Lutheran Church–Missouri Synod" and noting "Tornado Disaster Relief" in the memo line) to The Lutheran Church–Missouri Synod, P.O. Box 66861, St. Louis, MO 63166-6861.
Call toll-free 888-930-4438.
Any funds not needed for this relief effort will be used for other disaster purposes as determined by Lutheran Church–Missouri Synod Disaster Relief. Your gift is tax-deductible to the extent permitted by law.

Sarah Schafer is a freelance writer based in Fairfax, Va. She is a member of Prince of Peace Lutheran, Springfield, Va.
Posted March 3, 2012