By Paula Schlueter Ross

Aaron Likens has come a long way since he was diagnosed with Asperger's syndrome some nine years ago, at age 20. Since then, he's started a blog, written a book and become a spokesman for TouchPoint Autism Services — and now he's beginning a nationwide tour to share his message of hope with "as many people as possible."
Asperger's syndrome is a high-functioning form of autism that's about five times more common in boys than girls. Children with Asperger's typically are bright but lack social skills (such as starting and m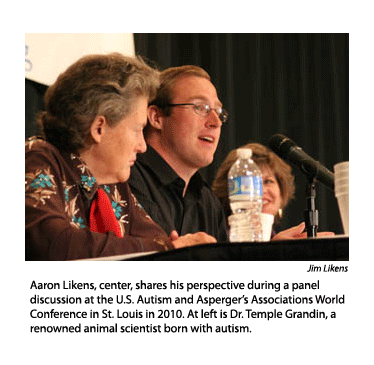 aintaining a conversation); have a formal style of speaking that may be flat and without tone; avoid eye contact; exhibit unusual facial expressions or postures; are preoccupied with only one or just a few interests; talk a lot, usually about a favorite subject; have delayed motor development; and have a heightened sensitivity to loud noises, lights or strong tastes or textures.
Likens, who's always thought of himself as "quirky" and "different," fits that description. As a child in Indianapolis, he was obsessed with spinning wheels ("Wheel of Fortune" was his favorite TV show), the weather and auto racing. He had trouble making and keeping friends, and always — always — felt like an outsider, especially in a group.
If he did something once — eat manicotti at Olive Garden, for example — he had to have manicotti every time he visited the restaurant. He loved board games because there were rules — consistency and order made him feel good, like he was in control. And he would correct others if they didn't "play by the rules" — did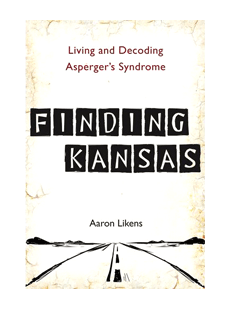 n't use the turn signal while driving, for example.
He would avoid eye contact "at all costs" because it might lead to a conversation, something he "can't do." Even a simple "How are you?" could make his mind race as he considered all the various ways he might answer and what he should say.
At the same time, he could carry on lengthy monologues, talking fast and furious about his two loves — weather conditions and the auto-racing world.
When he was diagnosed with Asperger's syndrome in 2003, he went to the Internet to find out what that meant. According to one website, those with the condition would never have friends, a job, happiness. That information — which he eventually proved wrong — sent him into a depression for more than a year.
Writing about his Asperger's experience turned his life around. His blog, "Life on the Other Side of the Wall" (http://lifeontheothersideofthewall.blogspot.com), has had more than 138,650 "pageviews" since it began in 2010. His book, Finding Kansas — Living and Decoding Asperger's Syndrome, originally self-published, was edited and re-released April 3 by a division of Penguin Books.
One thing that hasn't changed is his obsession with auto racing — he continues to serve as a "flagman" at races around the country. He was injured at his most recent flagging stint, March 25 in Nashville, Tenn., when two "quarter midgets" spun-out into the flag stand. The impact to Likens' body resulted in a cracked rib and bruises on his shoulder, hip and ankle.
At this writing he was still sore from the accident, but that hasn't dimmed his enthusiasm for auto racing — he's scheduled for flag duty at anoth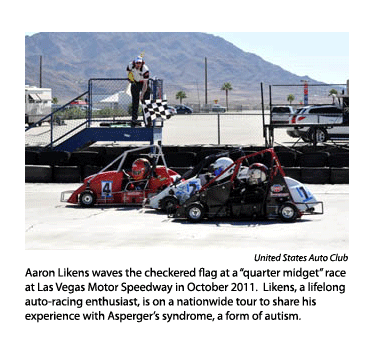 er race in Phoenix in late April and says he'll "be there without fear."
The accident also didn't alter his plans to speak in more than a dozen cities during the "Autism Understanding and Awareness Tour," which coincides with "Autism Awareness Month" in April.
The tour, Likens' idea, has several sponsors, including LCMS School Ministry and TouchPoint Autism Services, St. Louis. Likens has served the latter organization as a community-education specialist and autism ambassador for more than two years. He says he is able to speak publicly because he's "playing a role" and knows a lot about the subject.
The tour — with stops at Lutheran elementary and high schools, for the most part — begins April 4 in New York and is slated to end May 3 in Irvine, Calif., although some sites are still being added. Other cities on the schedule include Fort Wayne, Ind., April 9; Indianapolis, April 10; Chicago, April 11; St. Louis, April 13; Topeka, Kan., April 16; Denver, April 18; Phoenix, April 23; Las Vegas, April 25; San Francisco, April 28; and Los Angeles, May 1 (to see the complete list, click here).
The free presentations begin at 7 or 7:30 p.m. and are open to anyone with an interest in autism, including parents, children and educators.
Likens has been speaking about Asperger's syndrome for two years in Missouri, but says he wants to share his message with a wider, nationwide audience.
That message includes the fact that "each person with autism is very unique," so treatments are not one-size-fits-all. "One behavior tactic might work for Person A, but for Person B it might be the opposite," he said.
He wants to explain what it's like to have Asperger's syndrome — promoting understanding among those who do not have the condition, and sharing hope with those who do.
Likens said he believes autism is still under-diagnosed because some doctors aren't familiar with the warning signs. That's a shame, he says, because "with autism, the earlier we can get therapy for them, the much faster the rate of growth" and "the better off they will be over their lifetime."
Some early signs of autism in children at 18 and 24 months, he says, include lack of eye contact, lack of reciprocal eye gaze — trying to get the child to look somewhere specific, for example, but he or she won't — or fixating on a peculiar item, such as the tag on a teddy bear rather than the bear.
TouchPoint's website at www.touchpointautism.org offers additional information and resources.
Likens says he's excited about the tour — "it might be the biggest thing I ever do in my life" — and "absolutely" believes God has prepared him to do just what he's doing to promote autism awareness and understanding.
His father, the Rev. James Likens, senior video producer at Lutheran Hour Ministries in St. Louis, said he would be proud if Aaron, an avid go-kart racer, attained his dream of winning the Indianapolis 500. But he said he is much prouder of his son's book, Finding Kansas, because of the impact it can make over many years, in many lives.
Aaron Likens says he wrote the book so that others could experience — and understand — what he goes through every day. "I don't even know how many people will read this," he says, "but I wish a multitude would, so maybe, just maybe, I would feel like someone knows and won't look down on me for me being myself."
At one of his earlier school presentations "a fifth-grader asked me, if I could take a pill and get rid of Asperger's syndrome, would I?" Likens recalled.
"I said 'absolutely not.' There are challenges to being on the autism spectrum, but there are also gifts, so I wouldn't trade it."
Those gifts, he said, include "the ability to see things in a different light, an ability to think outside the box. So many revolutionary minds have been on the spectrum" — Albert Einstein, for example, is suspected by today's autism experts of having had Asperger's.
Those creative abilities, he added, "go a really long way."
And Likens, who already has accomplished so much in his young life, knows firsthand just how far that can be.
Posted April 3, 2012/Updated April 4, 2012/Updated April 9, 2012