By Kim Plummer Krull
A tsunami wave triggered by a powerful earthquake hit Constitucion, Chile, especially hard in 2010, killing some 350 people in the coastal community alone and causing so much damage that survivors feared their town was all but wiped off the map.
Two years later, smiling families flock to a weekly Bible study in that same village, now the home of a new mission congregation of the Confessional Lutheran Church of Chile. Plans are in the works for the LCMS partner church, which uses the acronym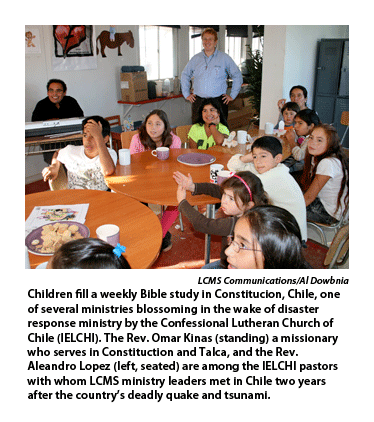 IELCHI for its Spanish-language name, to renovate a building that survived the disaster as a ministry center.
"From despair to hope" is how the Rev. Carlos Hernandez summarizes the dramatic change he saw on the most recent LCMS trek to an earthquake-prone country where Chilean Lutherans are working to build a firm foundation of faith.
People whose lives turned upside down in the disaster told Hernandez they are grateful for the church's emergency and material help. "But what they said is most valuable, what means the most, is that the church brought them the Gospel and the hope of salvation and eternal life," said Hernandez, director of Church and Community Development, LCMS Office of National Mission.
Ever since Hernandez, the Rev. Glenn F. Merritt, director of LCMS Disaster Response, and Al Dowbnia, director of LCMS Digital Media, returned in April from Chile, they have been eager to share how a small group of Chilean Lutherans, motivated by Christ's love and supported by the LCMS, is reaching out in big ways.
"Through the mercy work of the IELCHI, lives have been touched forever by Christ through the eternal Gospel," Merritt said after the March 28-April 4 trip. "Not only are physical and emotional needs continuing to be met, but a spiritual need for peace and hope has been met through our joint efforts."
To see photos from the LCMS trek to Chile, visit these photo galleries: "Recovery in Constitucion" at http://smu.gs/IEZNIK; "Mercy Forever, Chile 2012" at http://smu.gs/IEZT33; and "Children's Bible Study" at http://smu.gs/J0h049.
On Feb. 27, 2010, the magnitude-8.8 quake fueled a tsunami that devastated several coastal towns and generated waves powerful enough to cause minor damage as far away as San Diego, Calif. More than 500 people died in the dual disaster, according to news reports, and hundreds of thousands lost their homes.
Although no Chilean Lutheran congregation was based anywhere near the two devastated towns of Constitucion and Talca, IELCHI pastors were determined to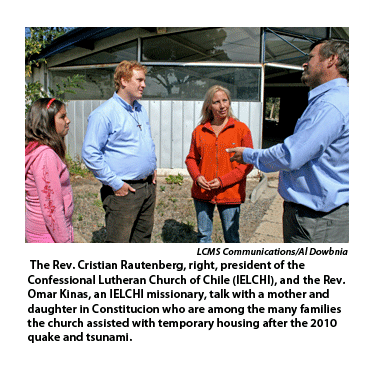 "try and put Christ at the [quake's] epicenter," in the words of IELCHI President Rev. Cristian Rautenberg.
Rautenberg is one of five pastors serving a church body of some 350 members. While small in number, Hernandez calls Rautenberg and fellow IELCHI pastors "hard working and extremely dedicated."
"They aren't the kind of guys who sit in the office. They go out in the mission field. They are very people oriented," Hernandez said. "They are so grateful for any tools the Holy Spirit sends them to use."

'We will be back'
One such "tool" was LCMS Disaster Response leaders who traveled to Chile soon after the quake, at the request of the IELCHI. As aftershocks continued to rattle survivors' nerves, Merritt and Hernandez joined teams of pastors and lay volunteers who made lengthy, weekly trips to help people in need.
"People wanted to talk to a pastor," Hernandez recalled. "We walked the streets together and did a lot of listening."
Hernandez remembers the words Chilean Lutheran pastors said to hurting people who had lost loved ones and homes: "We don't know how much we can help you or exactly when we will be back, but we promise you we will be back."
LCMS support helped Chilean Lutherans keep that promise. Since the quake, Merritt and Hernandez have made several treks to Chile to train pastors and volunteers in congregation-based disaster response and to help develop a plan for ongoing mercy work.
Donors also lent a big hand, making possible $326,000 in grants to the IELCHI.
The LCMS team speaks enthusiastically about how Chilean Lutherans are opening doors to the Gospel, including through:
the calling of the Rev. Omar Kinas to serve as an IELCHI missionary in Constitucion and Talca.

"Missionary Kinas has done a remarkable job of ministering to physical, emotional and spiritual needs," Merritt said. "The two fledgling congregations are solidly Lutheran, steeped in the Gospel and the catechism. They are committed Christians, generous and compassionate toward one another. The congregations are models for the future of a strong Lutheran church in Chile."

the thriving weekly Bible study in Constitucion, which draws both children and their parents.

"Everyone is smiling and the kids are so bright and cheerful," Dowbnia said. "The place is filled with happiness — such a contrast to the death and destruction of two years ago. If we (the LCMS and IELCHI) accomplished nothing else, these happy children would make it all worthwhile."

the powerful testimony of survivors whose lives were touched by disaster-response ministry and now believe in Jesus Christ.

Hernandez tells of one such woman in Talca. "She said it was nice to get help from the Lutheran Church to fix her home, but what matters most to her is her spiritual faith," Hernandez said. "Now she has hope."
Another LCMS grant provides for a psychologist who works in partnership with Kinas to help Chileans struggling with the stress many feel from living in a country with a long history of deadly earthquakes. (A magnitude-9.5 quake that shattered Chile in 1960 is considered one of the largest ever recorded.)
Ironically, a quake hit near Talca on March 25, only days before the LCMS leaders arrived on this latest, previously planned trek to Chile. While the magnitude-7.1 temblor caused no serious damage, people were upset, Merritt said, "because it reminded them of the great earthquake and tsunami of two years ago."
"Many people cried as we visited with them, seeking reassurance that everything would be all right. We comforted them and prayed with them, but the need is there for long-term professional counseling. This is what LCMS donors have made possible," Merritt said.
In addition to five stretched-thin pastors, the Chilean Lutheran church includes two schools, five congregations and the two new missions in Constitucion and Talca.
To help meet a need for more professional church workers, the Synod is providing support for a student from Santiago who attends Concordia Seminary, Buenos Aires, Argentina. He is expected to graduate next year. Plans to send a second Chilean student to seminary with LCMS support are in the works, according to the Rev. Ted Krey, LCMS regional director for Latin America and the Caribbean.
As Rautenberg, Kinas and other IELCHI pastors met with Chilean Lutherans and participated in worship and Bible study, Dowbnia recorded video interviews and took pictures. Initially, the pastors resisted and were "even a little embarrassed" by the cameras, Dowbnia said. "They didn't want the story to be about them."
"When we asked why they traveled hundreds of miles to help people in need [after the earthquake] and how a small church with so few resources could do the work they did, they had an answer," Dowbnia said. "Everything was the work of the Holy Spirit, they said."

To help strengthen witness and mercy when disasters strike:
make an online gift at www.lcms.org/givenow/disaster.
mail checks payable to The Lutheran Church—Missouri Synod (noting "Disaster Relief" in the memo line), P.O. Box 66861, St. Louis, MO 63166-6861.
call toll-free 888-930-4438.
Kim Plummer Krull is a freelance writer and member of St. Paul's Lutheran Church, Des Peres, Mo.
Posted May 11, 2012.