The Rev. Richard Boche was elected on the first ballot to his third term as president of the LCMS Wyoming District at the district's May 10-12 convention in Casper, Wyo. Boche was unopposed.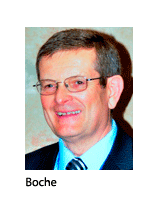 Also elected were:
the Rev. John Hill, senior pastor of Mount Hope Lutheran Church in Casper, first vice-president. Hill previously served as the district's second vice-president.
the Rev. Kirk Peters, pastor of Prince of Peace Lutheran Church, Buffalo, Wyo., second vice-president. Peters was formerly third vice-president.
the Rev. Jeffery Grams, pastor of St. John Lutheran Church, Scottsbluff, Neb., third vice-president.
Several resolutions adopted by Wyoming District delegates ask the Synod to:
continue its current "Witness, Mercy, Life Together" emphasis through the 2013-16 triennium.
rescind Resolution 3-08A, adopted at the 2004 LCMS convention, which affirms the conclusions of the 1994 Commission on Theology and Church Relations (CTCR) report on "The Service of Women in Congregational and Synodical Offices," and asks that a new CTCR study of the Scriptural relationship of man and woman be published.
address doctrinal differences between the LCMS and The American Association of Lutheran Churches.
"reaffirm that the standard for … admission to the Lord's Supper is full agreement in all articles of Christian doctrine," and to acknowledge officially that the term "closed communion" reflects the communion practice of the LCMS.
rescind Resolution 3-05B, adopted by the 1989 LCMS convention, that allows laymen who are licensed by their district president to carry out Word and Sacrament ministry under the supervision of an ordained pastor. The resolution also asks that currently licensed laymen "enter a Synod-approved program leading to ordination" within 18 months after the 2013 LCMS convention.
return to using the term "circuit visitor" rather than the current terminology of "circuit counselor."
Wyoming District delegates also adopted resolutions to:
provide greater financial support to retired pastors who want to attend district pastoral conferences.
encourage smaller congregations to continue their Gospel ministries by seeking assistance from the district president as well as considering the formation of multiple-congregation parishes and offering alternate worship times.
express appreciation and support for LCMS President Rev. Dr. Matthew C. Harrison regarding his Feb. 16 testimony before the U.S. House of Representatives Committee on Government Oversight and Reform in response to the recent U.S. Department of Health and Human Services mandate regarding contraception.
The convention also recognized and gave standing ovations to two individuals:
Ruth Kucera, who is retiring from her position as district archivist after serving the district in various capacities since the district's formation in 1970, and
retired Chaplain Lt. Col. David Anderson, who received the bronze St. Martin of Tours medal from the LCMS Ministry to the Armed Forces during the convention.
Posted May 15, 2012