Dr. Viji D. George, president of Concordia College, Bronxville, N.Y., since 1999, says he plans to step down from the position June 30, 2013.

"Periodic changes in leadership breathe new vision and direction into the life of an institution," Georg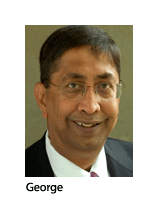 e said. "After 14 years in my post, I believe that it is the right time for a transition."

"Dr. George has contributed enormously to the success that Concordia has enjoyed for more than the past decade, and we will miss his leadership," said Concordia's Board Chair Jean Hanson. "We will be extremely sorry to see him go, but we understand and respect his decision."

George was elected Concordia College president after serving almost 20 years on the faculty as a professor of psychology.

During his presidency, the 130-year-old Lutheran college — one of 10 institutions of the LCMS Concordia University System — experienced steady growth, according to a Concordia, Bronxville, news release. The school's operating revenues more than doubled and its enrollment grew by 44 percent.

Under George's direction, the college received several of the largest gifts and grants in its history, added its first graduate-degree program — in special education — and launched an acclaimed nursing program.

The school has "invested strategically" in its facilities, including a recent $5.6 million state-of-the-art energy savings project, according to the release. George also spearheaded initiatives that strengthened the college's ties with the local community through programs like the "Business Breakfast" series and "Travel and Learn" trips to India and elsewhere.

"I believe that Concordia is at a very healthy place, and it is time for a new president who can build on our successes," George said.

Concordia's Board of Regents has appointed a search committee of regents, faculty and staff to coordinate the selection of a new president.

"Concordia is a very special institution, and finding the right person to be Concordia's ninth president is the board's top priority," said Hanson, a Bronxville resident for 30 years. "Concordia has a proud heritage. The board and all those associated with Concordia, including faculty and staff, take immense pride in the role Concordia plays in the lives of the students, as well as Concordia's place in the community. We look forward to continuing the long and successful traditions of Concordia well into the future."

George said he has no immediate career plans. "For now, I am focused on making sure that the presidential transition proceeds smoothly and meets with a successful conclusion in 2013," he said.

George and his family have spent more than 30 years in the Bronxville community. George's wife, Janet, is a Concordia graduate and co-founder/co-owner of The Silk Road, an international home and apparel boutique in Bronxville.
Posted Feb. 16, 2012