By Sarah Schafer

Concordia Publishing House (CPH) received the 2011 Malcolm Baldrige National Quality Award April 15, culminating an 11-year journey toward earning the nation's highest presidential honor for performance excellence through innovation, process improvement, customer focus and visionary leadership.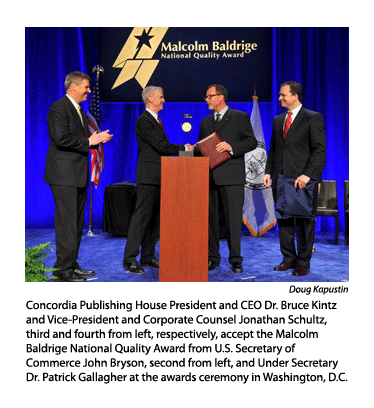 LCMS President Rev. Dr. Matthew C. Harrison accompanied 15 CPH employees and two CPH Board of Directors members to the awards ceremony in Washington, D.C., as CPH President and CEO Dr. Bruce G. Kintz and Jonathan Schultz, VP and Corporate Counsel, accepted the award from U.S. Secretary of Commerce John Bryson and Under Secretary Dr. Patrick Gallagher. (To see more photos, click here.)

Bryson described the recipients as "incredible" during the largest awards ceremony in the Baldrige program's 24-year history, and called them role models not only for their employees and their communities, but for producing the best products and services and providing value to their customers every day.

"It's not about the award … but I'll take it," Kintz joked during his acceptance speech, "It's about the journey." He thanked the Lord for blessing CPH with the talents and resources to earn the award.

"I'm very proud of the CPH employees, proud of the fact that the church body allowed the publishing house to excel in this manner, and that the president of the Synod came to be with us on this evening," said Kintz after accepting the award.

Following the award ceremony, Harrison congratulated the CPH leadership.

"To see CPH recognized in this league for its innovation, for its excellence, for its excellent business practices is just phenomenal," said Harrison.

"I'm thankful that at this stage in Christian publishing, when many denominational publishing houses are stagnant and in trouble, we see Concordia Publishing House achieving at this level; it bodes well for us, despite all the difficulties we may face as the Missouri Synod," he said.

To apply for the award, CPH submitted information in seven key areas of business — leadership, strategic planning, customer focus, measurement and analysis, workforce focus, operations and business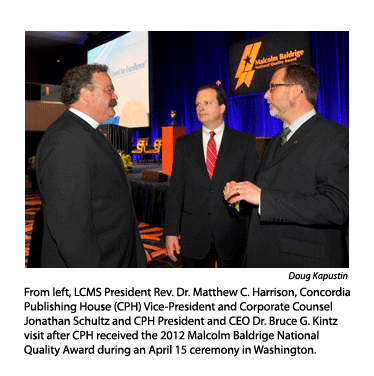 results.

"It didn't take us long to realize that the core criteria for Baldrige are common sense for business operations: Why wouldn't you listen to customers? Why wouldn't you want to understand the needs of your workforce? Why wouldn't you want to understand where you're going to be long-term as an organization?" said Karen Capps, executive director of quality systems and product controls at CPH.

Since implementing the Baldrige criteria, CPH survey data shows that 90 percent of CPH customers actively recommend the publishing house to others. Kintz also says the Baldrige criteria helped CPH remain flexible in the past few years as the book-publishing industry transformed.

"At CPH, [the Baldrige program] has been one of the prime reasons why we have not only survived in the last decade, but thrived," said Kintz.

According to the Baldrige program, winning organizations benefit from cost savings, customer satisfaction and financial gain. Bryson said that small-business winners have seen increases in sales, profit and market share, and their revenues have increased by 50 percent annually.

The CPH staff has celebrated the award since November when the organization learned it won, but Kintz says the celebration will continue for months to come.

CPH leadership also acknowledges the journey will not end with the award.

As a Baldrige award recipient, CPH received a 50-page detailed feedback report outlining business strengths and opportunities for improvement. Capps said CPH has created action plans to address these areas.

Kintz also said that CPH will turn its focus to innovation, one of three key issues touted by the late Secretary of Commerce Malcolm Baldrige, the namesake for the quality excellence program. For instance, the Synod publisher has created an emerging products group whose sole purpose is to develop cutting-edge products for customers.

"After you win an award like this you don't quit, you continue to move forward being a heavily competitive, innovative company," said Kintz.

CPH quality representatives remained in Washington, D.C. following the award ceremony to attend "The Quest for Excellence 2012," the 24th Annual Conference of the Baldrige Performance Excellence Program, April 16-18.

For more information about Concordia Publishing House, the official publishing arm of The Lutheran Church–Missouri Synod, and the more than 8,000 products it offers for use in Christian congregations, schools and homes, visit CPH at www.cph.org.

Sarah Schafer is a freelance writer based in Fairfax, Va., and a member of Prince of Peace Lutheran Church in Springfield, Va.
Posted April 17, 2012