If you're a member of an LCMS congregation who's involved in disaster response, you might want to consider attending the Synod's Fourth Annual National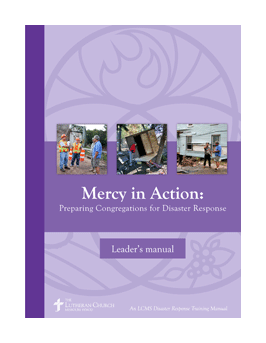 Disaster Response Conference, Oct. 8-10 at the LCMS International Center in St. Louis.

A limited number of spaces for registrants at the conference are still available on a "first-come, first-served" basis.

The conference is designed for those who are involved in congregation and district disaster response and relief efforts. Participants will discuss recent developments in disaster response and will review the Synod's new disaster-response training manual, Mercy in Action: Preparing Congregations for Disaster Response. Each attendee will receive a copy of the Mercy in Action Leader's Manual, Participant's Manual and related multi-media disk with a slideshow presentation of videos and teaching aids.

Speakers include LCMS staff — President Rev. Dr. Matthew C. Harrison; the Rev. Bart Day, executive director of the Office of National Mission; the Rev. Glenn F. Merritt, director of Disaster Response; the Rev. Carlos Hernandez, director of Church and Community Development; the Rev. Dr. Edward O. Grimentstein, manager of Disaster Response — and the Rev. Paul Krueger, senior pastor of Our Savior Lutheran Church in Minot, N.D.

Registration is $125 and includes two nights lodging and most meals.

For more information, click here or contact Grimenstein at edward.grimenstein@lcms.org or 314-996-1638.
Posted Sept. 21, 2012