By Paula Schlueter Ross

The blessings of the Synod's Fan into Flame campaign are many:
$1.45 million to help 29 new "career" missionaries begin ministries in far-flung locations including Germany, Guinea, Hong Kong, Kenya, Macau, Peru and Slovakia.
$1.22 million to start a Lutheran school in Hanoi, Vietnam. Staffed by LCMS educators, Concordia International School Hanoi has 65 students in preschool through grade seven, with 30 more students accepted for next year.
$1.04 million to renovate historic St. Michael's Lutheran Church in St. Petersburg, Russia. The church, originally dedicated in 1876, opens its doors every day of the week to offer witness and mercy ministries such as HIV/AIDS and addiction-support meetings, Bible-school seminars, youth activities and concerts. Some 24,000 people reportedly attended these events in one three-month period.
$500,000 to construct a Lutheran seminary building — with housing for 40 students — in Ghana, West Africa.
Launched by LCMS convention action in 2004, the campaign also funded numerous mission efforts in the United States, including the establishment of 38 new congregations in 12 states and the distribution of 24,000 audio New Te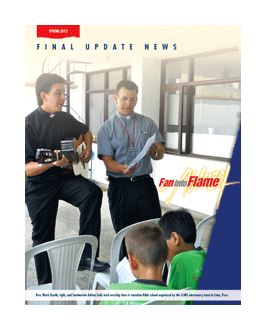 staments to teenagers and 700 Talking Book Bibles for blind and low-vision people.

Those are among the highlights of Fan into Flame as reported in the Spring 2012 edition of the campaign's Final Update News, mailed in April to all LCMS World Mission and Fan into Flame donors, as well as all of the Synod's rostered church workers. A more detailed "Final Report" is being prepared for release prior to the 2013 LCMS convention.

Fan into Flame — the synodwide campaign to raise $100 million for new mission efforts worldwide in conjunction with the Ablaze! initiative — ended its "active" appeal phase Oct. 31, 2011, with a total of $66,600,046 in gifts and pledges.

But the campaign remains open for another five years — until Oct. 31, 2017 — to receive those monies that already have been pledged.
Mark Hofman, who began serving as the Synod's executive director of Mission Advancement about six months ago — coincidentally, on the day the active fundraising phase of Fan into Flame ended — acknowledges that the campaign "did not meet everyone's expectations. We didn't raise $100 million.

"However, $67 million — the money that was committed over and above the $90 million that was received in the same time frame through normal fundraising [for mission work] — is an unbelievable amount offered up to share the Gospel. It would not be right to gloss over that."

Hofman sent an email April 19 to all LCMS pastors, reporting the campaign total and inviting them to read the Final Update News when it arrives in their mailboxes. An electronic version of the newsletter is available at www.lcms.org/fanintoflame. (The March 2012 issue of The Lutheran Witness also carries a story about the campaign.)

Fan into Flame was unusual for a Synodwide campaign in that it returned a portion of the contributions received back to districts and congregations for local outreach ministries. Its model for fund distribution was based on Acts 1:8: "… you will be my witnesses in Jerusalem [congregations], and in all Judea [districts] and Samaria [national work], and to the ends of the earth [international work]."

Of the 34 LCMS districts that took part, three — Texas, Michigan and Southeastern — pledged more than $6 million each to the campaign. More than 13,000 total gifts were pledged, including contributions from 1,521 congregations and 8,909 individual households.

In addition to the $67 million total, Final Update News reports totals of:
$53.1 million in cash received.
$18.03 million raised for international mission work.
$4.15 million raised for national mission work.
$13.05 million distributed to districts and congregations for local outreach.
$19.5 million spent in operational costs.
That last item represents about 29 percent of total gifts and pledges received, and is higher than the Synod's normal annual cost for fundraising, according to Hofman, who says he is working to bring the Synod's fundraising costs down.

"As the new head of Mission Advancement, one of my professional priorities, whether we're in a campaign or not, is to find ways to lower our cost to solicit charitable gifts," he told Reporter. "So I'm going to be pretty ruthless about searching out inefficiencies and practices that aren't good stewardship of a dollar. Instead, we'll put effort into those things that exceed expectations."

Hofman will draw on data gathered while researching his MBA thesis, in which he analyzed methods for measuring and reporting fundraising effectiveness in nonprofit organizations, as well as an in-depth analysis of Fan into Flame's internal operations.

"Synod did some things very well in this campaign," he said. "And there are some lessons we can learn moving ahead about what to do differently."

He added that "the campaign really isn't over" since "there are still ministries, congregations, districts and organizations who are hoping to receive funding from this effort as people fulfill [their] campaign commitments."

In fact, anyone who wants to offer a special gift — even if they haven't made a pledge — still can, he said. For information, contact Patty Mainer at 800-248-1930, Ext. 1661, or patty.mainer@lcms.org.

Hofman said he is encouraged by the fact that "a lot of people gave very joyfully" to Fan into Flame.

"We ought to give thanks to God that there were so many people who cared enough about their neighbor to share the Gospel by giving a gift to this effort," he said.

Posted April 25, 2012