Synod President Rev. Dr. Matthew C. Harrison led staff at the LCMS International Center in St. Louis in a 19-minute prayer service on "World Malaria Day," April 25.

The service included the "14:40 Prayer for World Malaria Day" that a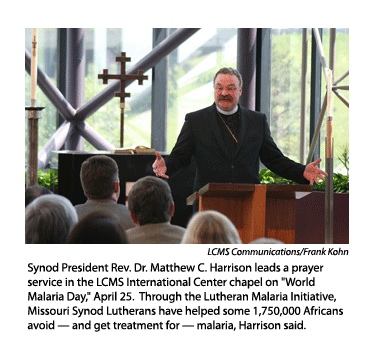 sks God to show mercy to those suffering from malaria, comfort those who have lost a loved one to malaria and bless the efforts of those fighting to eradicate malaria.

Lutheran Malaria Initiative (LMI) partners, which include The Lutheran Church–Missouri Synod and Lutheran World Relief, Baltimore, asked people to say the prayer at 2:40 p.m. — 14:40 on a 24-hour clock — in remembrance of the 1,440 African children who die each day from malaria.

In his homily, based on Luke 4:38-40, in which Jesus heals the sick, Harrison described a visit to a hospital in Madagascar where he prayed at the bedside of a 13-year-old Lutheran girl who was gravely ill with malaria and "gasping for breath." Her parents stood by, he said, "grasping for any hope, but finding little."

"Every year," he added, "that scene is repeated 800,000 to a million times on the continent of Africa among families, people who love each othe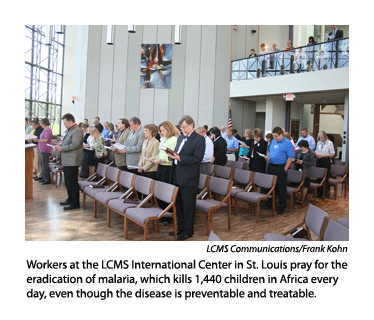 r."

In most cases "those who die are women, pregnant women, especially, and the most vulnerable — young children," he said. "And it's a tragedy because malaria is preventable, malaria is treatable, and malaria is defeatable in our time."

Harrison said, "It is God's great joy to care for those who hurt through us. And that's what Lutheran Malaria Initiative is all about."

Through LMI, Missouri Synod Lutherans already have helped some 1,750,000 Africans avoid — and get treatment for — malaria, he said.

"That is a magnificent blessing. And the greatest blessing is, we've barely just begun."

To watch a video of the prayer service, click here.
Posted April 26, 2012