The Rev. Robert Rahn, founder of the Lutheran Heritage Foundation (LHF), has written a 330-page book that traces the development of the organization from its beginnings in Russia to its present-day work in Africa and Southeast Asia.

The book's title, Jesus Never Fails, is taken from a wall plaque that hung in Rahn's parents' home. Rahn, who se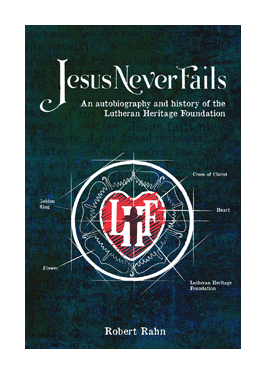 rved as LHF executive director until 2009 and currently serves as its ambassador, was guided by the confidence of those words when he founded LHF in 1992. LHF became an LCMS Recognized Service Organization in 1998.

Although he'd hoped to serve in overseas missions, Rahn's early ministry was instead in the United States, including a call to start a new mission in Missoula, Mont. "From the beginning, things weren't exactly going according to my plans," Rahn said in an interview. "But working on the Indian reservation was a pleasant preparation for what the Lord had in store."

During his ministry, he also served at Concordia University Chicago, River Forest, Ill., and at Concordia Theological Seminary, Fort Wayne, Ind., but still hoped to serve overseas. When he was 55 and without a call, that hope became reality.

"The walls in Russia started to come down," Rahn said. "I thought, 'Would this be a time to help restore Lutheranism in a country where it once was dominant? Would it be helpful to provide the Lutheran books and materials that were destroyed during the communist era?' A phone call to prominent church leaders provided encouragement and on Nov. 10, 1992, we launched the Lutheran Heritage Foundation."

Since then, LHF has received requests for Lutheran books from more than 70 different countries and in 90 languages. LHF has published Luther's Small Catechism in more than 57 languages, and 15 additional translations have been requested. In the past decade, LHF has published and distributed more than 616 titles and three million Lutheran books to pastors, seminary students, missionaries and churches at no cost to them.

As LHF begins its 20th year in mission, there have been many moments when Rahn says he's felt blessed to be a part of the Holy Spirit's work.

"I remember when we were in India, distributing One Hundred Bible Stories to the children. The church was filled, and the children had to sit on the floor at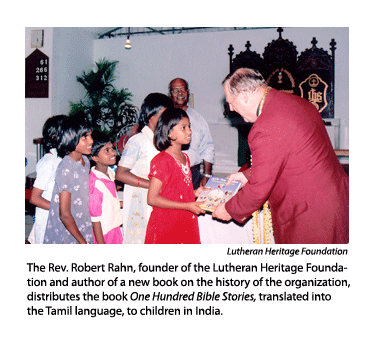 the foot of the chancel steps," he said. "Copies were first given to pastors and teachers and then each child received his or her own copy. I was struck by the picture I saw: all the children sitting quietly and intently reading the book.

"I see anew the need for LHF's work: men, women and children introduced to Christ through the printed page. And I'm then reminded of the thousands who make this ministry possible by their active support."

Rahn says he looks forward to seeing what the future holds for LHF. "As long as the Lord provides health, I will be spending my remaining years in serving the Lord," he said. "God has opened many doors and even though there are those who attempt to shut those doors, God keeps them open. While the doors are open, it is time to enter."

To order a copy of Jesus Never Fails for a recommended donation of $10, call 800-554-0723 or send a request by email to info@lhfmissions.org. All proceeds benefit the LHF mission.
Posted April 25, 2012