Fred E. Lietz, the first executive leader of Church Extension for The Lutheran Church–Missouri Synod, died April 19 in nursing care at Lutheran Haven, a retirement community in Oviedo, Fla., where he and his wife resided.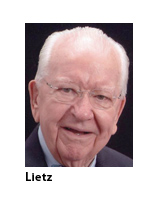 His death at age 95 came after several years of declining health.
The funeral service took place April 26 at Ascension Lutheran Church, Casselberry, Fla., with committal following in St. Luke's Cemetery, Oviedo.
In addition to his wife, Carolyn, survivors include three daughters — Gene (Paul) Gruetzmacher of Brookfield, Wis.; Sue (John) Zajicek of Mount Prospect, Ill.; and June (Phil) Gardner of Walnut Creek, Calif. Also surviving are six stepdaughters and a number of grandchildren and great-grandchildren.
Lietz served LCMS Church Extension posts at the national level for 22 years (1957-1979) — first as executive secretary and then as president. He was instrumental in growth of the Church Extension fund from an LCMS department to its incorporation in 1978 as a national entity named Lutheran Church Extension Fund (LCEF) – Missouri Synod. It is presently known simply as Lutheran Church Extension Fund.
Lietz left the LCEF position in St. Louis in 1979 to become director of Administration and Finance for the LCMS Florida-Georgia District, from which he retired in 1983.
A 1939 graduate of Concordia Teachers College (now Concordia University Chicago), in River Forest, Ill., he was a teacher and principal at Peace Lutheran School in Saginaw, Mich., before being called to the Synod department. In 1978, he received an honorary Doctor of Laws degree from Concordia College (now Concordia University Nebraska), in Seward, Neb.
He was the author of a history of the Synod's Church Extension ministries, for which the late Arthur C. Haake, his successor as LCEF president, wrote in the forward that Mr. Lietz "served as the first full-time [Church Extension] staff person . . . and was instrumental in the development of a philosophy unique in all of Protestant circles."
When Haake succeeded Lietz as president, LCEF – Missouri Synod reportedly was the only denominational lending and investment fund that had met requirements of all 50 state securities agencies, and it had helped some 85 percent of all LCMS congregations with site or facilities financing for churches or schools.
Rich Robertson, current President/CEO of LCEF, said, "Fred was a true visionary and was the architect of what we know today as the Lutheran Church Extension Fund. The contributions he made to this organization were immeasurable so that we are able to meet the capital needs of the LCMS. He was a great man, a man of God and one that will be greatly missed."
Former LCEF board member Vance Hinrichs praised Lietz for his diligence and skills of persuasion. Hinrichs pointed out that in his role as Church Extension executive, Lietz worked with many Synod leaders, districts, congregations and LCMS members, educating them on how invested dollars help build churches while providing the investor with the "ministry dividend." He added that Lietz encouraged cooperation among the various district funds, and eventually a pooling of those resources into a larger, more centralized fund that could leverage that unity and help more congregations, schools and church workers.
In the history he wrote, Lietz called his work to bring together all of the various district Church Extension funds a "courtship," and he knew it was essential to growing the resource and expanding foreign missions.
According to Karen Drier, a 30-year LCEF employee, Lietz helped Church Extension committees "look beyond their own territories, see the need of the church-at-large and help those that had limited resources but a passion to spread the Gospel."
Each year at its Fall Leadership Conference, LCEF presents two ministry awards in Lietz's honor — one to an outstanding LCEF volunteer and one to an outstanding emerging ministry of the LCMS.
His family suggests that memorial donations be sent to Lutheran Church Extension Fund (LCEF), P.O. Box 229009, St. Louis, MO 63122-9009 or to the Lutheran Haven Foundation, 2041 West State Road 426, Oviedo, FL 32765. On checks made payable to the Lutheran Haven Foundation, write "Benevolent Care Fund" in the memo line.
Posted April 27, 2012
Updated April 30, 2012