By Kim Plummer Krull

Jose Elizondo admits he never heard of the Lutheran Church Extension Fund (LCEF) before he began researching the organization for its inaugural national marketing competition for Concordia University students.
But the more the Concordia University Texas, Austin, student worked on his te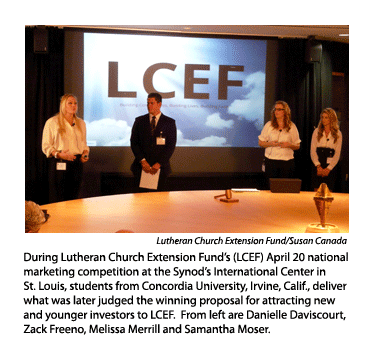 am's campaign, the more his enthusiasm grew for LCEF's mission to support sharing the Gospel through investments, loans and other services that strengthen ministry — including ministries like his own Concordia campus.
"Concordia has given me a lot, and now I want to give back," Elizondo said before the presentation by his team, one of four from the Concordia University System to participate in the competition April 20 at the LCMS International Center in St. Louis.
The challenge to develop a marketing campaign to attract new and younger LCEF investors appealed to the Concordia Texas senior. "Just like I wasn't familiar with LCEF, I wanted to try and hit home with my generation," Elizondo said. "I like the idea of a challenge."
The Concordia University Texas team took third place in the competition, with the students from Concordia University, Irvine, Calif., winning the top honor and the Concordia University, St. Paul, Minn., team earning second. Concordia University Chicago, River Forest, Ill., also participated. (To watch a video of the day's highlights, go to LCEF's website, www.lcef.org. See photos at www.facebook.com/mylcef.)
But LCEF President/CEO Rich Robertson called all the teams — and LCEF — winners in the competition designed to provide practical work experience for Concordia undergrads and an opportunity for LCEF to tap into the fresh perspective of young adults.
"God has incredible ways to work through each one of us. Sharing the wealth of opportunities we have to share the Gospel is what this competition is all about — and what LCEF is all about," said Robertson, who mingled with students between the morning presentations. "We are so delighted to bring each of these students here and so excited by their enthusiasm."
Each school assembled a team of students who are studying business, marketing or advertising. The groups conducted research, developed marketing plans and rehearsed presentations as if they were an agency and LCEF was their client.
Concordia, St. Paul, students spent "hundreds of hours" on the project, said assistant professor and faculty advisr Dr. Nancy Harrower, beginning in January to do research and analysis and create a campaign that featured new social media tactics and advertising promotions.
Like Robertson, she called the competition an opportunity for both the contestants and the sponsor. While the students gain "real-world experience and something that looks nice in their portfolio when they graduate," Harrower said, they also are "exactly the market [LCEF] is reaching out to."
The students "offer some great insights," Harrower said. "Older people just don't know social media like these students do."
The students were inclined to agree. They relished the challenge of developing a campaign to appeal to peers who, like them, tend to be less familiar with LCEF than their parents' and grandparents' generations.
"I'm Lutheran, so there was that connection to want to learn more," said Stacy Hillmer, a Concordia, St. Paul, student and member of Immanuel Lutheran Church, Fairmont, Minn.
On the other hand, Jacob Hawthorne, a Concordia Chicago student, said LCEF did ring a bell. He has been an investor since he was a baby, thanks to his "nan," grandmother Kathleen M. Thompson of Mountainburg, Ark.
"I knew [LCEF] was about investments," said Hawthorne, of Fort Smith, Ark., adding that he enjoyed working on the campaign as an opportunity to do something "besides just sit in class."
"This was a real-life application, something I can really use," Hawthorne said.
Looking more like young marketing professionals in their business black and white than college students, the winning Concordia Irvine team — Danielle Daviscourt, Zack Freeno, Melissa Merrill, Samantha Moser and Johanna Scerensi — outlined how their campaign would attract a younger market than "aging baby boomers." (Kevin Black also worked on the campaign but did not take part in the St. Louis presentation. Carolyn Shiery, assistant professor of marketing, served as the group's faculty adviser.)
Their polished, 20-minute presentation included story boards for commercial videos, an email campaign and a new tagline: "Building Communities, Building Lives, Building Faith."
The Irvine students also shared highlights from their research, including "good news/bad news" findings that likely caught the attention of LCEF marketing staff:
60 percent of Generation X (post-baby boomers born between 1960 and 1980) is unaware of LCEF.
70 percent of Generation X is more inclined to invest in a company that gives back.
"The students did an amazing job," said Becca Jones, LCEF vice-president of marketing, who served as a competition judge along with professionals from Concordia Plan Services, the Michigan Church Extension Fund and St. Louis-area communications agencies. "It was clear by their attention to detail and quality approach that they all took the assignment very seriously."
"Just as each student is on their learning journey, so, too, is LCEF," Jones added. "We learned we have a lot of work to do in connecting with their generation."
The students also will continue to grow from the experience, said Bev Gregory, LCEF's competition coordinator. Along with cash prizes for each school (ranging from the $5,000 first-place award to a $750 participation prize), LCEF sent the teams home with the judges' comment books and videos of their own presentation as well as the winner's.
"That way they can compare and learn," Gregory said.
Looking ahead, both the students and their professors said they hope LCEF makes the marketing competition an annual event.
Just as the Concordias are mission fields, Philip Hohle, assistant professor at Concordia Texas, says the event goes beyond the opportunity to enhance college careers and marketing campaigns.
"These students are so passionate about their campaigns and so excited to be here," Hohle said. "They are among the brightest [students] and the most likely to be influential professionals very soon in the public relations and marketing industries."
"This is outreach," Hohle said.
Kim Plummer Krull is a freelance writer and a member of St. Paul's Lutheran Church, Des Peres, Mo.
Posted May 1, 2012