The spring 2012 issue of Higher Things magazine is a first in two respects.

For the first time, its online version at http://higherthings.org is cost-free and its focus on apologetics marks the first completely topical edition of the quarterly magazine published by Higher Things — an LCMS Recognized Ser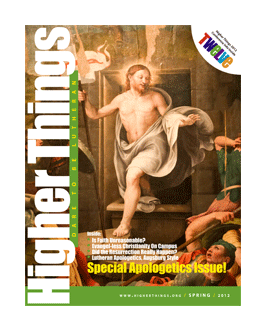 vice Organization "that works to promote a distinctly Lutheran identity among youth," according to a news release announcing the spring issue.

"Christian youth are constantly bombarded by attacks upon their faith," said Higher Things Media Executive Rev. Mark Buetow. "Our young people need to know why their faith is both reasonable and historical, and how to defend it when others attack."

The spring edition contains 10 articles and a Bible study related to apologetics, starting with "Lutheran Apologetics, Augsburg Style," in which the Rev. George F. Borghardt "takes us back to the movers and shakers at Augsburg, Germany, where defense of the Scriptures was a matter of life and death," according to a description of the article from the "contents" page of the edition.

"Lutherans historically have always engaged in apologetics," Borghardt, who is Higher Things conference executive, wrote in his article. "Apologetics is all about defending your faith. When you defend your faith, when you defend what you believe in Christ, you are doing apologetics. Apologetics has been, still is, and should always be what we continue to do as Lutherans."

Also included in the special edition are apologetics-related articles affirming the historicity of the Resurrection, the reliability of the New Testament and why faith is reasonable. One article about a campus pastor offers "a few very helpful tips for engaging in apologetics in your own circles," according to the "contents" page, and another provides resources and basics to help high-school and college students defend their faith. Others are titled "Christianity's Answer to the Problem of Evil"; "Answering the Knock," which stresses the importance of affirming solid Christian faith in response to Mormon missionaries and others who go door-to-door; and "Islam, Muslims and the Gospel." A study titled "Hallowed Be Thy Name" explains the First Petition of the Lord's Prayer and ties it to the apologetics theme.

"Higher Things magazine is a great resource for junior-high and high-school students, parents, pastors and congregations," said Katie Micilcavage, its editor. "We are so excited to offer this free issue, since doing apologetics is just another part of daring to be Lutheran."

Higher Things also sponsors youth conferences, including four set for this summer. They are scheduled for June 26-29 at Wake Forest University in Winston-Salem, N.C.; July 3-6 at Northwest Missouri State University, Maryville, Mo.; July 10-13 at Concordia University, Irvine, Calif.; and July 17-20 at Brock University, St. Catharines, Ontario, Canada. For more information about Higher Things conferences, visit http://higherthings.org.
Posted April 4, 2012