"Witness, Mercy, Life Together: Blessings — Challenges — Opportunities," the 16-minute video prepared by the LCMS Office of the President for the 2012 district conventions, is available online at www.lcms.org/wmltvideo.

The video highlights the work of The Luth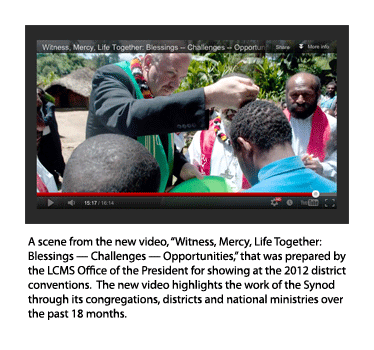 eran Church–Missouri Synod through its congregations and districts nationwide as well as its ministries based at the Synod's International Center in St. Louis. Spotlighted in the video are ministries from the past 18 months — beginning when the Rev. Dr. Matthew C. Harrison was elected president of the LCMS — as told through the lens of the "Witness, Mercy, Life Together" churchwide emphasis.
"The world is before us," Harrison says in the video. "And it has been my experience that whether you go to Asia or Southeast Asia or Indonesia, Sumatra, India, Africa, Central and South America, there is a deep hunger and thirst everywhere we go for faithful, biblical teaching and confessional fidelity. This is precisely the Missouri Synod's forte."
Posted June 1, 2012