The Rev. Dr. Anthony J. Steinbronn is the new president of the LCMS New Jersey District — elected on the third ballot to his first three-year term by delegates to the district's 16th convention, May 31-June 2 in Mount Laurel, N.J.
Steinbronn, 56, succeeds the Rev. William R. Klettke, who announced earlier that he was retiring from the district presidency after serving four terms.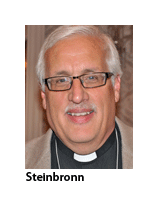 The district's mission executive for the past nine years, Steinbronn is a 1982 graduate of Concordia Seminary, St. Louis. He earned two other degrees from Concordia Theological Seminary, Fort Wayne, Ind. — master of sacred theology in 1991 and doctor of missiology in 1997.
Steinbronn and his wife, Carol, live in Howell, N.J., and are the parents of four grown children — a daughter, Leah; and sons Joseph, Joshua and Jonathan. Carol works in international customer service for a dental equipment supplier.
Steinbronn, three vice-presidents and other officers elected by delegates were installed during the convention, which had as its theme "Believe, Belong, Bless," based on Phil. 2:1-11.
Delegates also adopted resolutions covering a range of topics, including the district president's service in a call other than that leadership position; studying the district structure; and supporting congregational revitalization, Operation Barnabas and the Lutheran Malaria Initiative.
The Rev. Dr. John C. Wohlrabe Jr., the Synod's second vice-president, brought greetings on behalf of LCMS President Rev. Dr. Matthew C. Harrison; led a Bible study examining the Synod's "Witness, Mercy, Life Together" emphasis; and presented the 16-minute video overview of ministries in the LCMS, as seen through that three-fold emphasis.
The three district vice-presidents — all elected to first terms in their respective offices — are:
the Rev. Stephen A. Gewecke, first vice-president, who is pastor of St. Peter Lutheran Church, Lambertville, N.J.;
the Rev. Deric A. Taylor, second vice-president, pastor of Our Savior Lutheran Church, Fair Lawn, N.J.; and
the Rev. Robert A. Kuppler, third vice-president, pastor of Somerset Hills Lutheran Church, Basking Ridge, N.J.
The adopted resolution concerning the district president's service amends a district bylaw which now allows him to concurrently serve in "any call for which he is qualified, so long as such service does not interfere with his executing the duties of the office of district president."
As pointed out in whereases of that resolution, there has been recent discussion in the district about the position being available to "pastors serving congregations" and that "greater flexibility in the structure and governance of the district would be beneficial for the future of the district."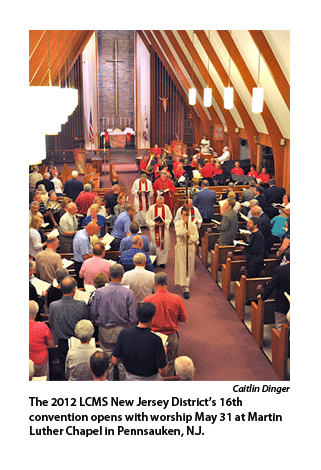 Another adopted resolution charges the district's Board of Directors with heading a three-year districtwide study to determine the priority of district functions, the most efficient staffing model and how to best allocate district resources (including people, time and treasure.) The resolution also asks the board to work with circuit counselors in studying circuits to determine if they meet the needs of the district, or if they should be reconfigured toward that goal.
Yet another resolution calls on the district to provide encouragement and resources for continued revitalization of New Jersey District congregations, by providing a series of practical workshops for pastors, commissioned ministers and laity — such as those offered through the Transforming Congregations Network, Lutheran Hour Ministries' "Mission U," and other conferences and workshops aimed at increasing members' biblical literacy, devotional lives and missionary skills.
Two separate resolutions adopted by New Jersey delegates encourage each district congregation's support for Operation Barnabas and the Lutheran Malaria Initiative (LMI). One asks each congregation to appoint an Operation Barnabas representative to spearhead its involvement in the program, which supports the nation's military personnel and their families. The other resolution urges congregations to support LMI through prayer, education and financial contributions, as well as designating the convention opening worship service offering for that initiative.
Other resolutions adopted by delegates to the 2012 LCMS New Jersey District convention:
emphasize the importance of ministry to youth and young adults — declaring the Sunday before Reformation Day as "Youth Ministry Sunday" throughout the district, and urging the district's youth ministry team to provide a number of resources for that youth-emphasis Sunday.
encourage professional church workers in the district to be intentionally involved with district programs and events geared toward early childhood, preschool and elementary-school ministries.
direct the district Board of Directors to consider "Witness, Mercy, Life Together" as the emphasis for the district.
Two other adopted resolutions thank God and commend Klettke for his years of service and name him "district president emeritus," and commend and support the urban and immigrant ministry of District Urban Mission Strategist Rev. James D. Buckman.
Also during the convention, Dr. Viji George, president of Concordia College — New York, at Bronxville, presented the college's "Servant of Christ Award" to Klettke. And Lois Doring received the district's own "Servant of Christ Award" for the years when she was preschool director at Our Savior Lutheran Church, Stanhope, N.J., and for her longtime service of coordinating, equipping and encouraging efforts for educators, Lutheran schools and early childhood centers in the district.
Posted June 4, 2012.