The Rev. Rodney E. Zwonitzer has accepted the call to be director of broadcast services for the Synod's KFUO Radio and began work in that position June 4 at the KFUO building on the campus of Concordia Seminary, St. Louis.
Synod President Rev. Dr. Matthew C. Harrison installed Zwonitzer into his new position during a chapel service June 6 at the Synod's International Center in Kirkwood, Mo.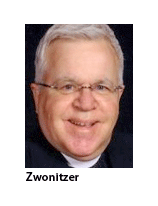 KFUO is the world's oldest continuously operating Christian radio station. The Synod broadcast ministry provides high-quality, distinctively Lutheran programming via KFUO 850 AM radio and 24/7 Internet streaming that includes the programming of KFUO-AM and classical music via classic99.com.
Zwonitzer, 63, has most recently been senior pastor of Emmanuel Lutheran Church, Dearborn, Mich., since 1995. He began his service there as pastor in 1991. A 1988 graduate of the St. Louis seminary, he was pastor of Peace and Trinity Lutheran Churches, Trail, British Columbia, Canada, from 1988 to 1991.
He also has extensive business experience.
At KFUO's helm, Zwonitzer succeeds the Rev. Michael Kumm, who was the ministry's interim station manager from May 2011 until Zwonitzer joined the staff. Under Kumm's leadership, KFUO experienced growing donor support and began new programming — after a number of expense reductions were made, including elimination of several staff positions. Kumm is pastor of Trinity Lutheran Church, Millstadt, Ill., and a member of the Synod's Board of Directors.
Zwonitzer told Reporter that his new position with KFUO Radio "holds particular excitement for me, due to the massive potential to reach a large audience of believers, believers in-waiting [and other] listeners with the precious Gospel of Jesus Christ. All of the existing technologies and the ones on the near horizon hold even more potential of sharing the riches of the grace of our compassionate God in Christ crucified for the world's sins."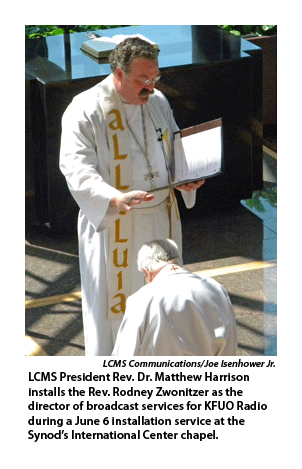 In his homily at the installation service, Harrison emphasized the need to "grab hold of the Word of God," which he described as "the power of salvation for all who believe. It saves, converts, raises us to life and gives us hope and consolation."
To Zwonitzer, Harrison said, "Rod, you've got a wonderful job. You've just got to get the Word out."
"We need to thank Michael Kumm for his interim leadership, and also say thank you to our donors and those who have given bequests," Harrison said. "Pastor Kumm did a fantastic job preparing things at the station for this transition."
"It's time to pump the airwaves with the Word of God and fill the website with downloadable podcasts," Harrison added. "This is a wonderful moment."
Zwonitzer is author of the book Testing the Claims of Church Growth (Concordia Publishing House, 2002). He is a co-founder of the Ephphatha Lutheran Mission Society, which establishes outreach ministry to the deaf and hearing impaired.
Zwonitzer also has served on the Board of Directors of Lutheran Action Team Improving Native Spanish Outreach (LATINO), and taught as an adjunct professor at Concordia Theological Seminary, Fort Wayne, Ind., in 2004 and this past winter.
He earned a bachelor's degree in business administration in 1971 from the University of Wyoming, Laramie.
From 1971 to 1975, Zwonitzer was executive trainee for Westinghouse in Denver. He then served (1975-79) as marketing director/administrator for Storage Technology Corporation in Louisville, Colo., and was product marketing manager for United Technologies/Mostek of Carrollton, Texas, in the years 1979-84.
For 14 years, he was on the Human Subjects Review Board for the University of Michigan.
Zwonitzer and his wife, Bonnie, plan to reside in the St. Louis area. They have one daughter, Tonya (Jeff) Speelman and four grandchildren.
For more information about KFUO Radio and to listen to its continuous AM and classical streaming, go to kfuo.org.
Posted June 6, 2012.