The Rev. Dr. Ray Mirly was elected on the first ballot to his third term as president of the LCMS Missouri District at the district's June 3-5 convention in Springfield, Mo.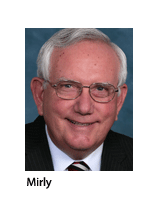 Also elected were:
the Rev. Dr. R. Lee Hagan, pastor of St. Paul's Lutheran Church in Concordia, Mo., first vice-president. Hagan had previously served as chairman of the Missouri District Board for Congregational Services and as fourth vice-president.
the Rev. Dr. Kevin Golden, pastor of Village Lutheran Church in Ladue, Mo., second vice-president.
the Rev. Alan Wollenburg, pastor of Concordia Lutheran Church in Sikeston, Mo., third vice-president.
the Rev. Dr. Ron Rall, pastor of Timothy Lutheran Church in St. Louis, fourth vice-president.
Delegates to the convention approved resolutions that ask the Synod to:
rescind Resolution 3-08A, adopted at the 2004 LCMS convention, which affirms the conclusions of the 1994 Commission on Theology and Church Relations (CTCR) report on "The Service of Women in Congregational and Synodical Offices." The district's resolution also asks the CTCR to fulfill its mandate given by 1995 Resolution 3-06A that it continue to study the issues in the 1994 report along with the resulting dissenting opinion "in consultation with the faculties of the seminaries," and to respond to questions raised in the district resolution.
discontinue the licensing of laymen to preach the Gospel and administer the sacraments under the supervision of an ordained pastor, as stated in Resolution 3-05B, adopted at the 1989 LCMS convention. The resolution also asks that current licensed laymen cease these activities within three years after the Synod acts on this resolution.
Missouri District delegates also adopted resolutions to encourage:
support of the Koinonia Project for harmony in the LCMS.
the study and practice of the proper administration of the Lord's Supper.
witness and outreach to urban and ethnic ministries.
support of the Lutheran Malaria Initiative (LMI), a joint effort of the Synod and Lutheran World Relief, Baltimore — supported by the United Nations Foundation — to heighten awareness of the disease and raise $45 million for the effort to eliminate malaria deaths in Africa by 2015.
Half of the opening worship service offering was designated for LMI; the other half was given to Immanuel Lutheran Church in Joplin for tornado relief efforts.
Posted June 7, 2012.