By Pamela Nielsen

ANN ARBOR, Mich. — Some 150 LCMS Hispanic ministry leaders from across the nation gathered June 19-22 at Concordia University here for the IV Convención Nacional Hispanic (Spanish for Fourth National Hispanic Lutheran Convention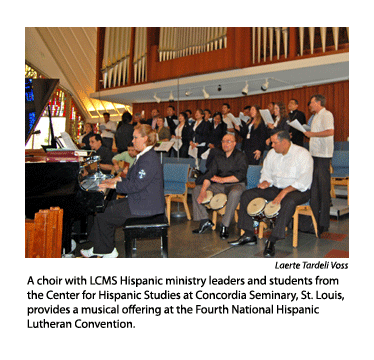 ). They discussed concerns such as how to best identify Hispanic ministry in the Synod and shared joys and challenges of that ministry.

Participants included Hispanic pastors, deaconesses, students and lay leaders. The entire convention was conducted in Spanish.

The convention began with a Divine Service, for which Synod President Rev. Dr. Matthew C. Harrison served as preacher.

He recounted the northern migrations into what is now Europe and how the Lord used that large movement of people to grow the church.

"[Today] the global south is moving north. … This is the way that the Lord spreads the Gospel," Harrison said. "You can often feel lonely and ignored by the English church, but we need you now like never before. We have a moment to speak the Gospel of grace to people like never before."

Under the convention theme of "Celebrating our Vocation," keynote speakers included:
Lorna Virgili, owner of the National Hispanic Communications Group, Washington, D.C., who spoke about her 20-plus years of working in the mainstream media as she addressed the challenges of being a Christian in the marketplace.
the Rev. Dr. Giacomo Cassese, pastor of Hope Lutheran Church in Miami and a Martin Luther scholar, who presented Luther's views on vocation from a historical perspective.
the Rev. Dr. Douglas Rutt, director of International Ministries for Lutheran Hour Ministries, St. Louis, who spoke on the topic of Luther and vocation from a missiological perspective.
'Something different'
Harrison also addressed the group Wednesday morning, offering the idea that a "memorandum of understanding" be developed with LCMS Hispanic leaders — similar to one that has been developed with the LCMS Black Clergy Caucus.

"It contained our mutual expectations of what we would work on together and what we expect of each other," Harrison said of that memorandum. "I would like to propose this model with you, so [that the] LCMS can be much more helpful to you."

"I have ideas that may be controversial," Harrison told the Hispanic convention. "What if we create one non-geographic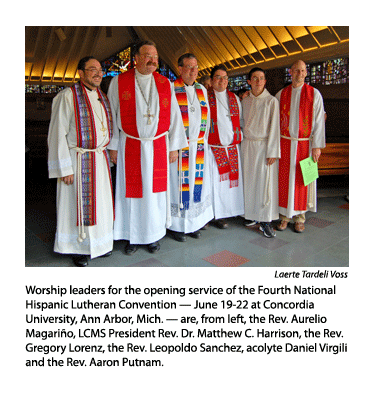 LCMS Hispanic district — it would be complex to start and not be favored by some, but you'd have a Hispanic bishop on the Council of Presidents. But would it segregate you in an unhealthy way? We need to think these things through.

"There are important questions to discuss," Harrison continued. "My point is that I am ready to do something different. … Let's schedule a meeting with your leadership in the next 90 days."

Hispanic leaders responded with both favor and caution.

Vicar Roberto Rojas, a student at Concordia Theological Seminary in Fort Wayne, Ind., noted that he had read the resolutions offered for the convention, including one proposing a Hispanic district.

"Personally, I don't think we are ready," Rojas said. "We need more time, we need to know what a district is and what it is responsible for. My concern is with the third- and fourth-generation bilingual Hispanics. Is such a district necessary?"

Rev. Aurelio Magariño, the convention's outgoing president, said he is "very hopeful that President Harrison will help us to put Hispanic ministry in front of the church and help the church at-large to realize the importance of ministry to Hispanic people in this age."

When asked about the general reaction to Harrison's proposals, Magariño replied, "We need to work together in the Synod and understand within the system and understand the different perspectives present in the local ministries. We have a call by God and He will open the doors for our work."

The convention later adopted a resolution calling for its past and current presidents and newly-elected officers to meet with Harrison and others to draw up the memo of understanding.

The Rev. Bart Day, executive director of the LCMS Office of National Mission (ONM), which oversees the national Synod's work in Hispanic ministry, said he was at the convention to listen, learn and participate in the discussions. "It's good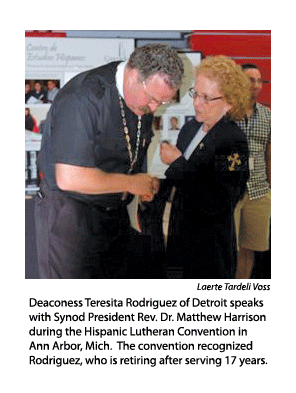 to be here," he told Reporter.

"If the LCMS is going to grow and thrive over the next 20, 30, 40 and 50 years, the face of the Synod is going to change and look much more Hispanic in its makeup, and not just in urban areas," Day observed. "Hispanics are settling into all sorts of rural and small towns."

The Rev. Carlos Hernandez is the ONM's director of Church and Community Development, for which he coordinates numerous resources and services to benefit congregations. He said he heard someone at the convention make the comment, " 'since we don't have a Hispanic ministry leader.'

"I want to clarify that [we] do, though part-time," he said, referring to his own role of providing resources. "It is beneficial, because you have access to all these other things with someone who knows the needs. We're here and we're ready to work."
'Our own Mother Teresita'
At the convention's June 21 evening banquet, Deaconess Teresita Rodriguez was honored by the Rev. Roosevelt Gray, mission executive for the LCMS Michigan District, on her retirement after 17 years of service — the last 13 of which have been with the Lutheran Mission Society in Detroit. Referring to her as "our own Mother Teresita," Gray recounted the countless lives she has touched as one of the Synod's first Hispanic deaconesses.

Officers elected by the convention for the next triennium were: the Rev. Dr. Leopoldo Sanchez, director of the Center for Hispanic Studies at Concordia Seminary, St. Louis, president; the Rev. Laerte Tardeli Voss, missionary for the LCMS Mid-South District, of Lowell, Ark., vice-president; and Deaconess Ligia Borges of Prince of Peace Lutheran Church, Orlando, Fla., secretary/treasurer. Also elected board members at-large were the Rev. Pablo Dominguez of Silvis, Ill., a missionary for the LCMS Central Illinois District, and Deaconess Marta Luna of Salem, Ore., who serves with Lutheran Latino Ministries of Mount Angel, Ore.
Deaconess Pamela Nielsen is editor, Witness, Mercy, Life Together, for LCMS Communications.

Posted June 29, 2012