By Sarah Schafer

At least three LCMS families in Montana and Colorado are known to have lost their homes to wildfires and others are facing that possibility.
On Montana's Northern Cheyenne Reservation, two families at Circle of Life Lutheran Church in Lame Deer are among some 20 area families that reportedly have lost everything. At this writing, Pastor Dennis Bauer was still contacting c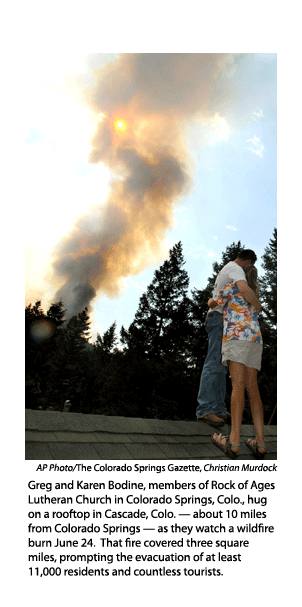 ongregation members to determine their needs.
"The devastation and loss are tremendous," Bauer said. "What we really need is rain at this point. Pray for rain."
In Colorado, at least one LCMS family lost their home and dozens of Synod members were among the 32,500 Colorado Springs residents forced to evacuate June 27 due to the 6,200-acre Waldo Canyon Fire. Rock of Ages Lutheran Church in Colorado Springs is also within the mandatory evacuation area.

Displaced LCMS members there have found housing with family, friends or fellow church members, according to the Rev. Dennis Lucero, pastor of Immanuel Lutheran Church, Colorado Springs, and a disaster-response coordinator for the LCMS Rocky Mountain District.

Also within the Rocky Mountain District, wildfires blazed in Utah, New Mexico and other parts of Colorado.
Lucero was on vacation when the Waldo Canyon fire began. As it worsened, he turned for home. "We're in view of Pikes Peak now, and there's a huge ball of smoke," said Lucero Wednesday (July 27) afternoon from his car as he neared Colorado Springs. "You have no idea how big it is."

LCMS Disaster Response has offered financial assistance to assist the Synod's Montana and Rocky Mountain Districts and local LCMS congregations as they assess and respond to the needs of LCMS members and others in their communities.
"This is a dangerous wildfire looming over a densely populated area," said the Rev. Glenn F. Merritt, director of LCMS Disaster Response. He offered to be in Colorado Springs the week of July 1 to assist Rocky Mountain District staff with assessment and developing an action plan.

Pastors in the Colorado Springs area planned to meet soon to discuss needs and begin coordinating the district's response efforts. A note was sent to all Rocky Mountain District churches June 27, asking each to collect a door offering July 1 to aid the response.

"Watching as the homes and businesses of real people are placed in jeopardy by these devilish wildfires is heart-wrenching," said Mark Hofman, executive director of LCMS Mission Advancement. "I grew up in Colorado and have been following these events a bit more closely. To hear or read of people praying for God's intervention, and then others ridiculing people of faith, saying, 'Where is your God?' is an opportunity. Together as Synod, reaching out to these affected communities with donations and special grants, we can hold up our Christian brothers and sisters and at the same time show the unbelieving world how God sometimes chooses to work through His bride, the Church. For those who receive that assistance, we are offering the hope found in our Savior Jesus."

To make a financial gift to assist LCMS Disaster Response efforts:
make an online donation at www.lcms.org/firerelief.
mail checks payable to The Lutheran Church–Missouri Synod (noting "Fire Relief" in the memo line) to The Lutheran Church–Missouri Synod, P.O. Box 66861, St. Louis, MO 63166-6861.
call toll-free 888-930-4438.
In addition to financial gifts, Lucero asked LCMS members nationwide to keep those who are displaced or have lost homes in their prayers — as well as firefighters and first responders.

Any funds not needed for this relief effort will be used for other disaster purposes as determined by The Lutheran Church–Missouri Synod. Your gift is tax-deductible to the extent permitted by law.

Sarah Schafer is a freelance writer based in Fairfax, Va., and a member of Prince of Peace Lutheran Church, Springfield, Va.
Posted June 28, 2012 / Updated June 29, 2012