By Kim Plummer Krull

More than 20 years ago, Linda Husfeld picked up a Laborers For Christ brochure at a Lutheran Women's Missionary League conference and showed it to her husband, Rich. "This is something we would like to do when we retire," the LCMS member from Katy, Texas, recalls thinking.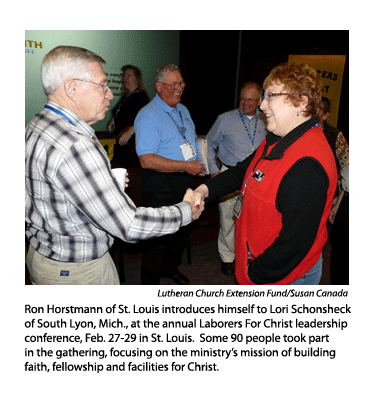 The Husfelds gathered Feb. 27-29 with some 90 participants at the annual Laborers For Christ leadership conference in St. Louis. Soon after retiring last year, the couple joined the Lutheran Church Extension Fund (LCEF) ministry that builds facilities — and more — for Christ.

Taking part in her first Laborers For Christ project last year "lived up to every single expectation," said Husfeld, 64, a former teacher and member of the Laborers group that worked for Peace in Christ Lutheran, Hermantown, Minn., to build a 6,800-square-foot education wing.

In addition to wielding hammers with the congregation, Husfeld told how Laborers and their spouses took part in the church's life beyond the framing, singing in the choir and lending a hand in the church food pantry.

"It feels good to be productive and to enjoy new friendships," Husfeld said. "I feel like we were called by God [to join Laborers]."

That spirit of faith and service filled the conference, held at the LCMS International Center. Laborers from throughout the country worshiped together, shared experiences from past projects and gleaned tips about an area these men and women already seem to excel in — building for Christ, in congregations as well as communities.

Opportunities to interact with both LCMS members and local residents are the best part about being a Laborer, says Project Manager Phil Homp. He mentioned the youngsters when Laborers worked near a center for children with incarcerated parents and the residents of Hazard, Neb. (population around 60), who smiled when Homp assured them that the church construction under way also would be available for community use.

Since Laborers For Christ became a ministry in 1980, the group has tackled 821 projects, said Marcy Scholl, Laborers For Christ manager. Today, more than 172 men and women are rostered members. Laborers have 22 active projects, with 10 new ones scheduled so far for 2012. Two projects now under construction are for Emmanuel Lutheran, Asheville, N.C., and Christ Lutheran, Perry, Ga.

"Thank you for all you do," Scholl said to the men and women who leave their homes for weeks at a time, live out of RVs parked on church property or campgrounds and work alongside congregations. "You construct far more than buildings.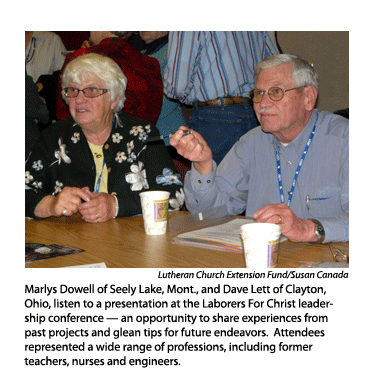 What a witness you give! His love shines in you and through you."

Laborers For Christ project managers shared highlights from last year's projects, including work for:
St. John Lutheran Church, Geneseo, Ill., which participated in Laborers For Christ after what Project Manager Jim Eberhart called a double tragedy. Fire destroyed the church not long after the death of the congregation's pastor. Members initially expressed reluctance about the Laborers program but became enthusiastic supporters. "They found out we weren't a bunch of old coots," Eberhart said. "We knew what we were doing!"
Immanuel Lutheran Church, Joplin, Mo., where Laborers worked for the congregation on repairs to the church and school after a deadly tornado. Project Manager Lyle Wydeck immediately volunteered to head to Immanuel, where Laborers previously had built a new gym roof. Likewise, Immanuel's Rev. Gregory Mech wanted Laborers back on the job. That roof, the pastor said, was the only one on the church campus to survive the twister. (See videos about the Geneseo, Joplin and other Laborers projects at www.Vimeo.com/lcef.)
Faith Lutheran Church, The Dalles, Ore., where Laborers worked for the church, installing energy-efficient windows and siding. They also invigorated the small congregation with new faces and fellowship. After a contractor gave the congregation a $75,000 bid, Laborers completed the work for just over $40,000, said Project Manager Bob Madsen. "This was a small job, but it meant as much as a big job would to a bigger congregation," he said.
NAILS on board
Project Manager Ron Horstmann talked about one of Laborers' more non-traditional projects, working for Humanitri, a St. Louis-based LCMS Recognized Service Organization. Instead of tackling new construction, Laborers replaced more than 100 windows and patched roofs and gutters on residences scattered throughout the city for formerly homeless people, toiling in 100-plus-degree summertime heat.

Five young men with NAILS, Laborers For Christ's young-adult component, worked with Laborers, creating a team with an age span from about 18 to 80.

"If we hadn't had the NAILS, we'd all be dead!" said Laborer Tom Weiss with a laugh, recalling the many stairs the group climbed with tools and materials.

Laborers and spouses attending the conference represented a wide range of professions, including former teachers, nurses, information technology specialists and engineers. "What an incredible amount of knowledge, industries and so many walks of life," said the Rev. Max Biesenthal, vice president, Ministry Resources, with LCEF, looking around the room.

Biesenthal recognized three Laborers for milestone service awards:
Dale Vogt of Eagan, Minn., 25 years of service. Vogt has been involved in a whopping 438 projects, Biesenthal said, in roles ranging from preconstruction coordinator to regional consultant.
Ed Kotz of Swaledale, Iowa, 15 years of service.
Ken Block of Seward, Neb., 10 years of service.
The Rev. Dr. Bruce Hartung, associate dean of Ministerial Formation with Concordia Seminary, St. Louis, served as keynote speaker, focusing on the differences between "healthy" and "unhealthy" conflict. He shared insights for promoting the former, information that caught the ears of a group for whom communication is a key to working smoothly in congregations and communities.

LCEF leaders discussed how the organization's many services are interconnected to benefit congregations. Churches that participate in Laborers For Christ also strengthen their ministries through LCEF loan support, Capital Funding Services stewardship programs and resources provided by the Architectural Advisory Committee, Scholl said.

Along with highlighting accomplishments, Biesenthal addressed challenges to Laborers' ministry. Those include the changing needs of congregations now doing less construction and Laborers' need to attract younger participants.

"Your generation is the builders. You get in your RVs and stay for four months or more [at a church work site]," Biesenthal said to Laborers. "Do you think the generation behind you is inclined to do that?"

But Biesenthal stressed that "the shelf life of Laborers For Christ is eternal. But we have to think collectively and creatively how we replace you."

LCMS President Rev. Dr. Matthew C. Harrison and LCEF President and Chief Executive Officer Rich Robertson also thanked the group. Harrison noted that when people talk about Laborers For Christ, they smile.

"You are the hands, feet and lips of Jesus," Harrison said. "You do a lot for next to nothing, to serve the church."

The relevance of the Laborers' ministry "is extra high to the church and LCEF," said Robertson, who spoke via a Skype interview from Orange, Calif., after a last-minute schedule change threw a curve into his plans to attend the conference.

Laborers For Christ is "critical to what [LCEF] needs in order to move forward," Robertson said.

Last year, Susie and Bill Venohr, LCMS members from Aurora, Colo., bought an RV, motivated by the "many wonderful stories" Susie's parents told about their Laborers For Christ experiences. "It was the best time of their lives," Susie, 50, said of her parents, former Laborers Galen and Sally Hemmerling.

In particular, Susie said the ministry produced a big change in her late father, a former police officer. "He really grew in the Lord," Susie said. "I saw that, and I knew this [Laborers For Christ] was a positive thing."

When the Venohrs worked last year with Laborers in Joplin, the couple's son, Michael, volunteered. "He said he might like to be a Laborer some day, too," Susie Venohr said with a smile.

The Laborers For Christ program appreciates its many generous supporters who give their financial gifts for ministry, Scholl said, and encourages LCMS congregations and members to consider a contribution. To make a gift that helps this Christ-centered ministry continue building, visit www.lcef.org?LCEFgifts or call 1-800-843-5233.

To learn more about Laborers For Christ, call the number above, email laborers@lcef.org or visit www.lcef.org?lfc.
Kim Plummer Krull is a freelance writer and a member of St. Paul's Lutheran Church, Des Peres, Mo.
Posted March 23, 2012