By Sarah Schafer
For five days after Hurricane Isaac, the Rev. Jerome Terry and his wife, Nora, were stuck inside their LaPlace, La., home without power or running water, and with three inches of floodwater soaking into the carpet and furniture.
"We felt very alone those five days," recalled Terry. "I had a down moment," he said, referencing Mark 9:24: "I do believe; help me overcome my unbeli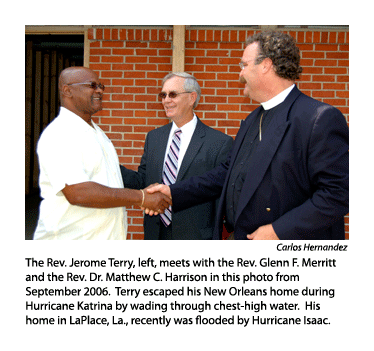 ef!"
As of Friday, Sept. 7, the couple remained in their home — despite the growing mold — because of looting concerns. They were waiting for a storage container to arrive so that they could store their salvageable belongings before leaving.
Terry, pastor of Bethel Lutheran Church in New Orleans, and other pastors in the LCMS Southern District will benefit from a $5,000 LCMS emergency grant awarded to the district Sept. 6 for Hurricane Isaac assistance for church workers.
Terry didn't know where he and his wife would go next, but he believes "the Lord will provide." It's a lesson the couple learned well after losing their home and all their belongings in Hurricane Katrina.
"If we could use this money for hotel costs, that would be great," said Terry, who had personal-property flood insurance even though his house is not in a flood zone. "I appreciate all of the support coming [from] throughout the Synod," he said.
Also on Sept. 6, the LCMS awarded a $10,000 emergency grant to RAI Ministries Inc., which operates Camp Restore in New Orleans. Perhaps best known for rebuilding homes after Hurricane Katrina, RAI plans to use the grant to purchase gift cards to distribute among families in St. Bernard Parish.
RAI has worked among residents of the parish — many of them fishermen — since the 2010 BP oil spill. Because many of these families just miss qualifying for food stamps, they are in a population that struggles to get supportive services, according to RAI Executive Director Rev. Dave Gooding. Without power for 10 days, many lost the food in their refrigerators and freezers. The gift cards will enable these families to replace groceries and other necessary items.
"As LCMS Disaster Response works collaboratively with the Southern District in the aftermath of Hurricane Isaac, immediate needs are being met and long-term recovery plans are being developed," said the Rev. Glenn F. Merritt, director of LCMS Disaster Response. "At the same time, assessments are under way in Haiti, where our partner church [the Evangelical Lutheran Church of Haiti] continues to reach out to the thousands suffering in the wake of Isaac. I am grateful that the members of the LCMS continue to support these ongoing ministries of mercy with their generous gifts and prayers."
Terry's congregation, Bethel in New Orleans, could not hold services Sept. 2 because roads were blocked with debris and flooding, but he looked forward to holding services Sept. 9. His message, he says, may focus on Rom. 5:3-4: " … we also glory in our sufferings, because we know that suffering produces perseverance; perseverance, character; and character, hope."
For more information on the Synod's response to Hurricane Isaac or to support the mercy work of LCMS Disaster Response, follow the LCMS online at www.lcms.org, Twitter (www.twitter.com/thelcms), the LCMS Facebook page (www.facebook.com/thelcms) and the Mercy Forever blog (http://mercyforever.lcms.org).
To help those affected by the storm:
make an online gift (click here).
mail checks payable to "The Lutheran Church–Missouri Synod" (with a memo line or note designating "Hurricane Relief") to The Lutheran Church–Missouri Synod, P.O. Box 66861, St. Louis, MO 63166-6861.
call toll-free 888-930-4438.
Sarah Schafer is a freelance writer based in Fairfax, Va., and a member of Prince of Peace Lutheran Church, Springfield, Va.
Posted Sept. 7, 2012