By Kim Plummer Krull

Hours after deadly storms ripped through the South early Jan. 23, the Rev. Ed Brashier already had organized a chainsaw team that was clearing fallen trees from the home of an LCMS member family in Centerpoint, Ala.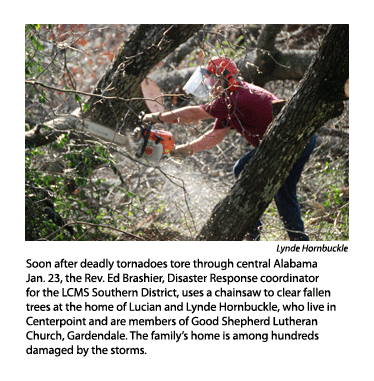 "We got a tree off their house and removed six trees from their yard that had blown from the neighbors' [property]," said Brashier, Disaster Response coordinator for the LCMS Southern District, speaking of the damaged home of Lucian and Lynde Hornbuckle, members of Good Shepherd Lutheran Church, Gardendale.

After helping the Hornbuckles, Brashier, who also serves as Good Shepherd's associate pastor, said he and fellow LCMS volunteers began clearing debris from other homes "that were nearly destroyed" in the neighborhood, one of several areas hit hard by tornadoes and severe storms that killed at least two people and injured more than 100 in the Birmingham area. More than 200 homes were destroyed and hundreds more were heavily damaged, according to the Red Cross.

The Rev. Dr. Edward Grimenstein, manager of LCMS Disaster Response, has been in touch with Southern District President Rev. Kurtis Schultz and, as of early Jan. 24, said he had received no reports of addit
ional injuries to Missouri Synod members or serious property damage to LCMS families, churches or schools.

In the midst of a busy day, Brashier — who wears a third hat as manager of Shepherd's Heart Ministry — took time to note his appreciation for LCMS World Relief and Human Care (WR-HC) donors whose gifts enabled WR-HC grants to the Shepherd's Heart disaster cleanup ministry to buy equipment. Volunteers are now using the tools, including a trailer and skid steer, to help families in need.

"People are so grateful when we show up with chainsaws and equipment that make the job go well," Brashier said. Debris removal after a major storm can cost thousands of dollars, he added, and take months to complete.

"We're still cleaning up from that massive tornado nine months ago," Brashier said, referring to the deadly storms that devastated parts of Alabama in April.

Experienced chainsaw volunteers who can assist with storm cleanup in Alabama are asked to contact volunteer coordinators at Lutheran Church Charities, 847-287-6678.

To make a gift to help with LCMS disaster response in Alabama:
mail checks (noting "Alabama tornadoes" in the memo line) to LCMS World Relief and Human Care, P.O. Box 66861, St. Louis, MO 63166-6861.
call toll-free 888-930-4438.
make an online donation for "Alabama tornadoes" at http://givenowlcms.org.
Any funds not needed for this relief effort will be used for other disaster purposes as determined by LCMS World Relief and Human Care. Gifts are tax-deductible to the extent permitted by law.
Kim Plummer Krull is a freelance writer and member of St. Paul's Lutheran Church, Des Peres, Mo.
Posted Jan. 24, 2012